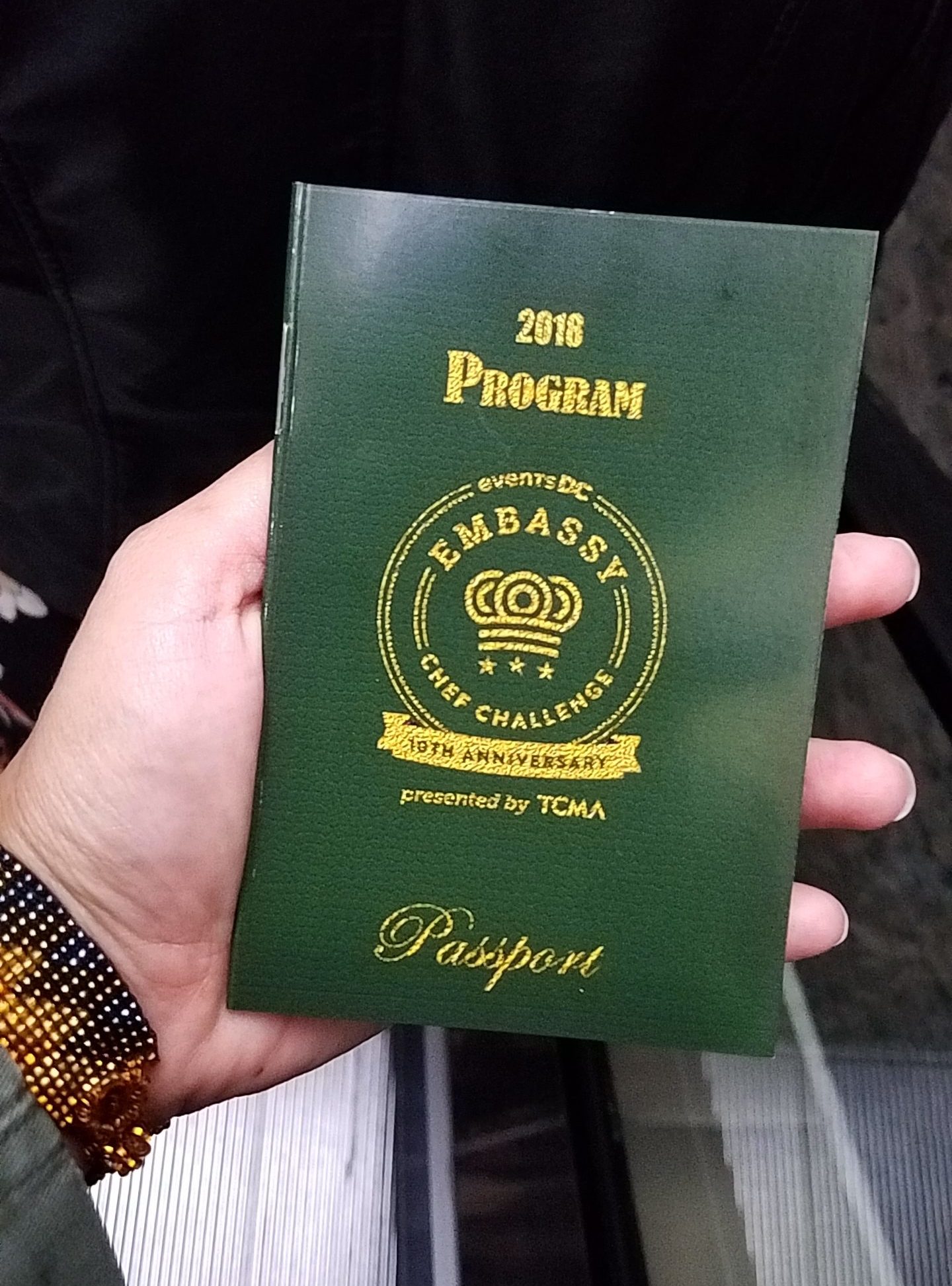 It was a huge privilege to have been invited to the DC Embassy Chef Challenge 2018. I was very thrilled to attend, Chef Felipe Milanes was representing Panama's Embassy woohoo!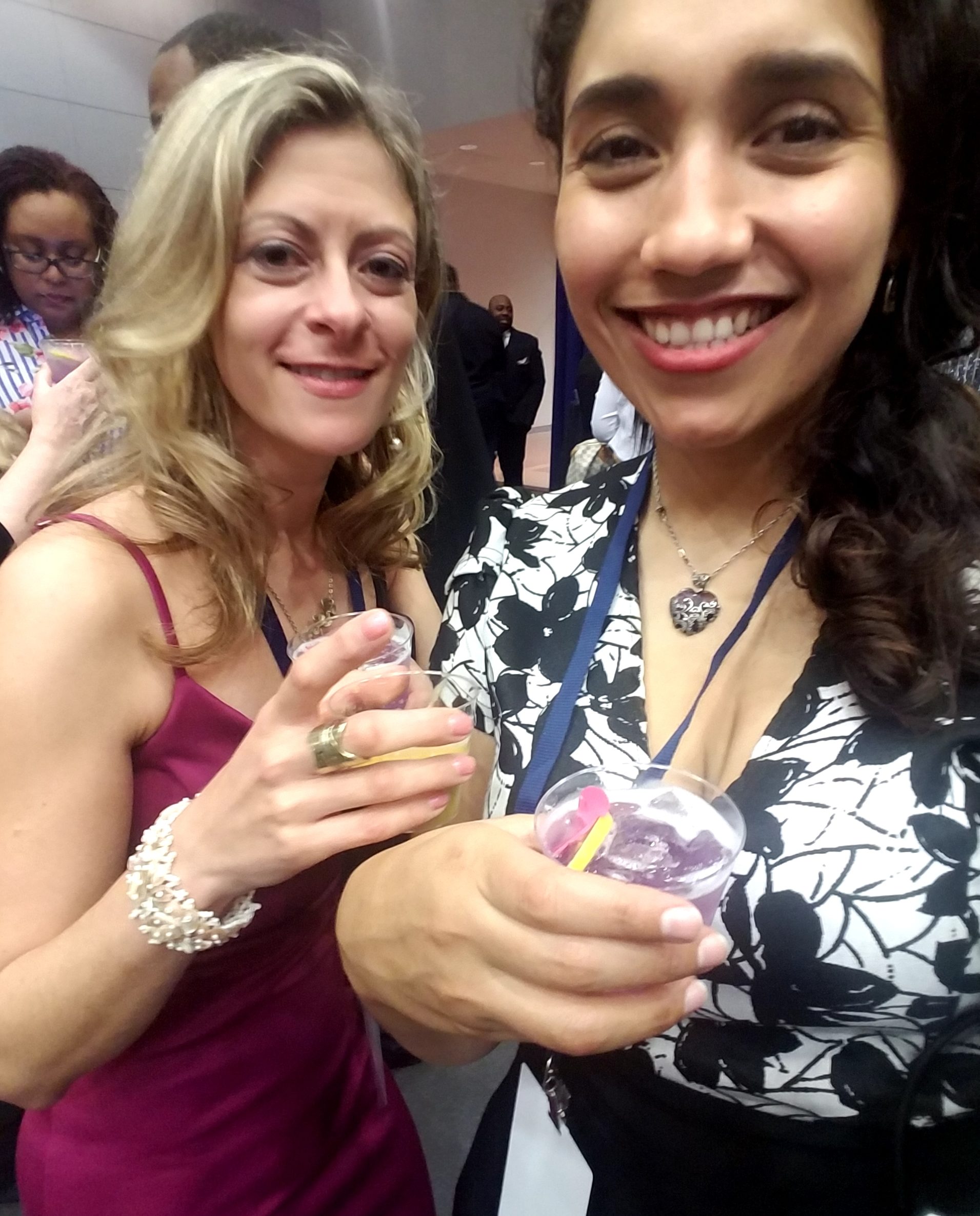 Sharing a cocktail with the lovely Lisa Comento
It was fantastic also to say hello to other media colleagues, such as the amazing Lisa Comento, and of course, all the embassies showcased their cuisine, many of which I've never had the opportunity to try before!
The way a mood is set at events is so important to me and more when I know it's going to be packed and people are going to cut off in front of you in the line (or "not knowing" where the line starts), yet this event had one of the best ambiances I've been to, everyone looked so happy; guess, chefs and their teams as well.
The winner of the evening, Sisig by the Embassy of the Phillipines
I was very lucky I didn't have to do a line until after 8pm and it was on the South American embassies section, the great thing is that there was plenty of wine and cocktails available so I was able to sip while waiting for them tasty bites.
Delicious desserts! My favorite was the one on the right by Mauritius, a chocolate mousse-pudding with crispy chocolate on top and a caramelized banana compote in the bottom. Also Belgium did an amazing white chocolate, raspberry and basil dessert. On the top left it's Morocco's chocolate mouse.
My favorite dishes that evening were: Mauritius Seafood Bisque (and obviously, their dessert, so good!), Haiti's mutton dish, it was so good and one of my favorite chefs of the evening! The ladies at Côte d'Ivoire were killing it too, and their pineapple ginger cocktail was very refreshing. Chef Felipe's Guacho (smoked pork stew) was pretty tasty, it was fancier than what my mum and my grandma cooks, but the comfort flavor was there and it had chicharron, so yes, bonus! Extra aji chombo (Panamanian hot pepper sauce) for me please!
Ghana's Lamb with Jollof Rice was pretty delicious, so was Georgia's Chanakhi (Lamb & Eggplant Stew), and the short ribs from Iraq so well seasoned, give me all these meats any day! It's worth to mention Colombia and Peru for their variety of food options. The embassies did a terrific job at showcasing their cuisines and culture through the arrangement of their tables and chefs outfits, Morocco won best Chefs outfits, their table was .
I had a fantastic time and hope I can get this opportunity again the next year to eat around the world from Washington DC, all in one night with great music, dancing, and lovely people who love all the foods and cultures as much as I do!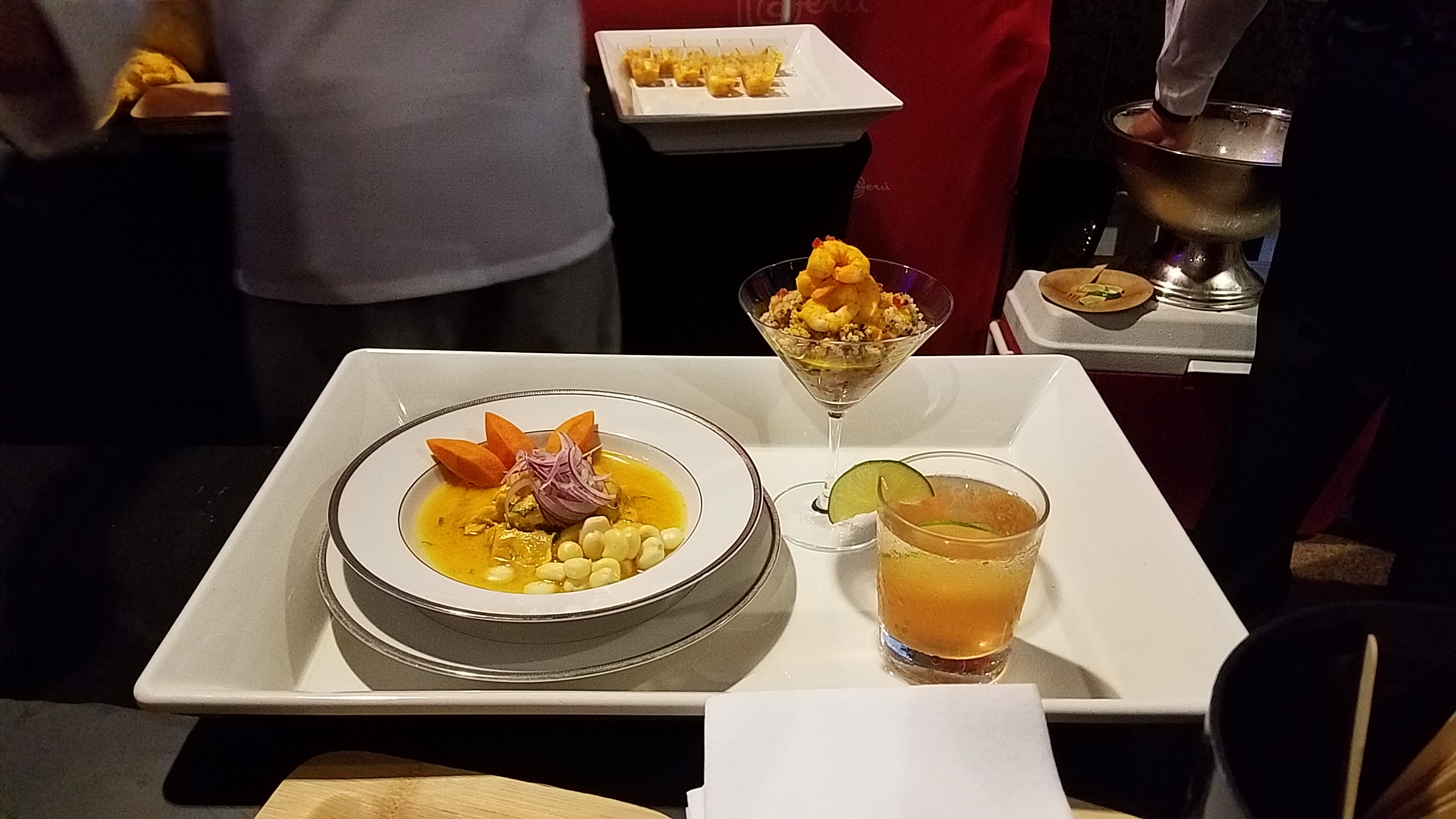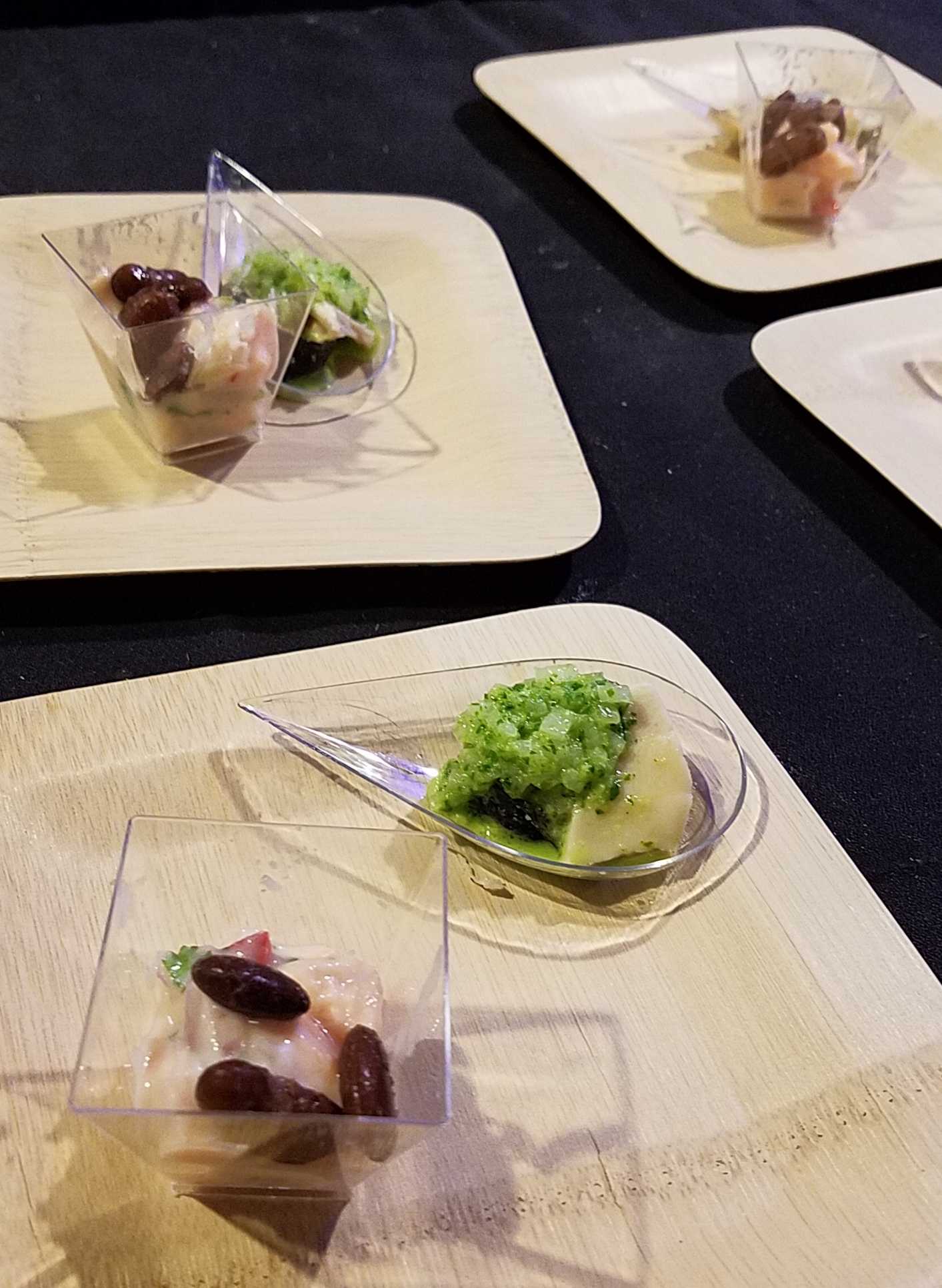 —
Below is the Press Release after the winners were announced at the DC Embassy Chef Challenge 2018
Washington, D.C. (May 18, 2018)—Attendees of the Tenth Anniversary Events DC Embassy Chef Challenge presented by TCMA gathered to travel the world with their taste buds, sampling bites and beverages from 28 participating nations. Embassy chefs showcased the unique flavors of their home countries in a culinary showdown. Chefs competed to win the coveted People's Choice Award presented by Events DC, chosen by guests' votes, as well as the Judges' Choice presented by TCMA, selected by a panel of influential members of the diplomatic, cultural and culinary communities.
The winner of the evening, Sisig by the Embassy of the Phillipines
Chef Abigail "Abie" Sincioco-Mateo representing the Embassy of the Philippines was selected as the People's Choice Champion and well as the Judges' Choice Champion for her plate of Pork Sisig. Both second-place prizes were given to the Embassy of Ghana Chef, Francis Otoo, for his Lamb Jollof Rice. Chef Jouvens Jean from the Embassy of the Republic of Haiti took home the third-place prize in the Judges' Choice category for his Kabrit Kreyol served with Haitian Cinnamon Water. In the People's Choice category, third-place was awarded to the Embassy of Colombia Chef, Alex Salgado, for his Coconut Shrimp with Pancetta and Heart of Palm Ceviche.
The judging panel consisted of:
Andy Shallal, Busboys & Poets
Major Garrett & Arden Farhi, CBS News
Lauren Bernstein, The Culinary Diplomacy Project
Chef Tim Ma, Kyirisan
Nycci Nellis, The List Are You On It
Executive Chef Xavier Deshayes, Ronald Reagan Building and International Trade Center
Daniel Nasaw, The Wall Street Journal
Maura Judkis, The Washington Post
Chef Cynthia Verna, 2017 People's Choice Champion representing the Embassy of the Republic of Haiti
Chef Moja Fedal, 2017 Judge's Choice Champion representing the Embassy of Morocco
Two new awards were handed out this year as well. The Best Beverage presented by Pepsi was awarded to the Embassy of Barbados for their Drunken Bajan Lemonade developed by mixologist Philip Antoine and Chef Creig Greenidge. The Best Dressed Embassy presented by Macy's was earned by the Embassy of the Kingdom of Morocco with a colorful display that wowed guests.
Guests ate their way through an abundant array of foods and drinks prepared by the embassy chefs representing Bangladesh, Barbados, Belgium, Plurinational State of Bolivia, Republic of Cameroon, Canada, Chile, Colombia, Côte d'Ivoire, El Salvador, Ethiopia, Georgia, Ghana, Republic of Haiti, Republic of Iraq, Jamaica, Republic of Kenya, Kyrgyz Republic, Principality of Liechtenstein, Mauritius, Republic of Moldova, Kingdom of Morocco, Nepal, Panama, Peru, the Philippines and Slovak Republic.
Events DC senior vice president and managing director of sports, entertainment and special events, Erik Moses, said of the tenth anniversary event, "This year's challenge was bigger and better than ever before. It was great to see so many embassies turn out with such pride for their native cuisine and culture. Congratulations to all the chefs who competed. Here's to another decade of friendly and delicious competition."
Sponsors
The 2018 Event DC Embassy Chef Challenge presented by TCMA sponsors include Astral Tequila, Bundaberg, Cultural Tourism DC, Cutco, Legacy Partners Distribution, Macy's, RCN Business, Social Driver, Sombra Mezcal tequila, Teahouse/Pureleaf, TYKU Sake and Voss artesian water.