I published this podcast episode back at the end of April and I could tell you so many of the excuses I have for not having shared the recipe until now, but instead I'll just keep it short and sweet and share the recipe.
Seriously, here you go, this is the podcast episode and the recipe below, ¡a comer! (you're welcome)
—–
—–
I usually make the stock the night before or days before and freeze it.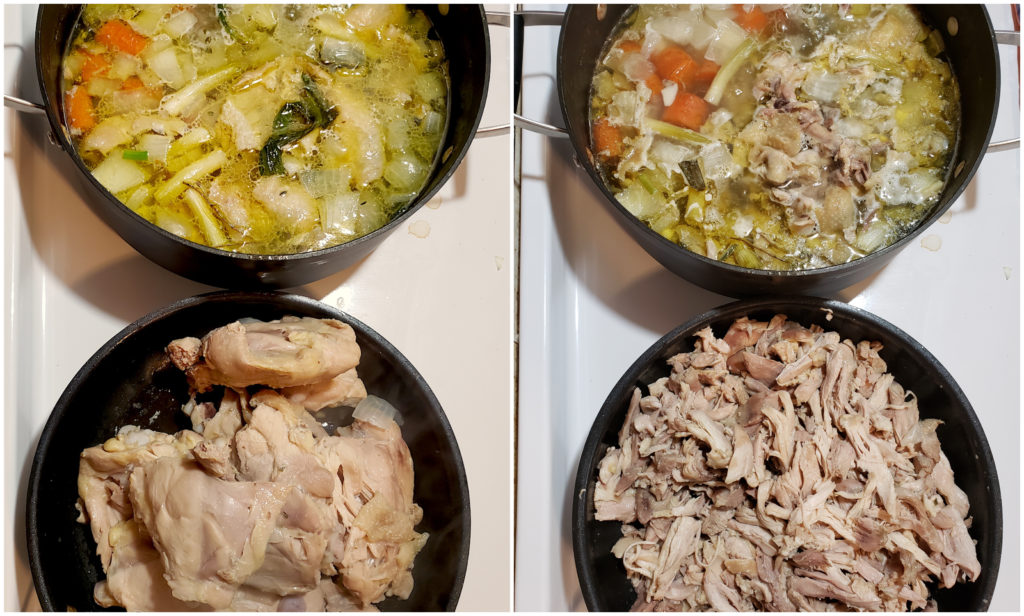 Chicken Stock Recipe (this will yield enough to make arroz con pollo (twice the recipe), or just save the chicken stock and shredded chicken for another time)
Ingredients
3.5 lb chicken thigh (bone & skin in)
3 medium size carrots
1 medium size yellow onions
scallion bulbs
3 garlic cloves
cilantro stalks
1 bay leaf
culantro leaves (2-3)
Instructions:
– Fill up a pot with water until you cover all the chicken, add chopped vegetables, herbs stalks. and bay leaf
– Bring to a boil and then lower the temperature and simmer 30-45 minutes (until the chicken is cooked).
– Remove all the chicken from the pot, continue simmering the stock.
– Debone chicken and remove skin and toss (bones & skin) back inside the pot, you can simmer in low for 2-3 hours, depending on how much time available you have and how much you want to reduce as well you can either add more water to the stock, or you can make sure you get 2-4 cups and your stock will have a wonderful strong chicken delicious taste.
– While the stock continues to simmer you can now shred the chicken with your hands and reserve.
– Pass stock through a sieve to make sure it has no bits, squeeze those juice from the bones, skin, and vegetables (seriously, look at the photo above on how much I squeezed them skin/bones/veg).
Note: When the stock cools off you can skim the fat off from the top and save it to use to cook the arroz con pollo or any other delicious meal; chicken fat is so delicious I actually use it a lot for cooking over other animal fats.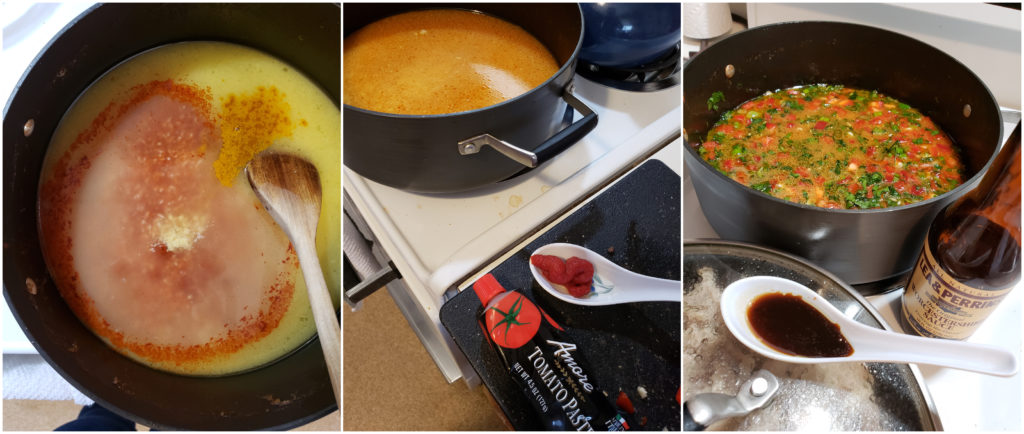 LittleLadyCook's Arroz Con Pollo Recipe:Ingredients:
1 lb of white rice
2 cups of shredded chicken
2-3 cups of chicken stock
1 tbs tomato paste
3 garlic cloves, minced
Scallions, chopped
Cilantro, chopped
Culantro, chopped
Chicken Fat
Annatto powder
Turmeric Powder
Paprika
Garlic Powder
Onion Powder
Cumin
Worcestershire Sauce
Soy Sauce
Black Pepper
Red Pepper, chopped
Green Peas
Carrot, chopped
Onion, chopped
Olives
Capers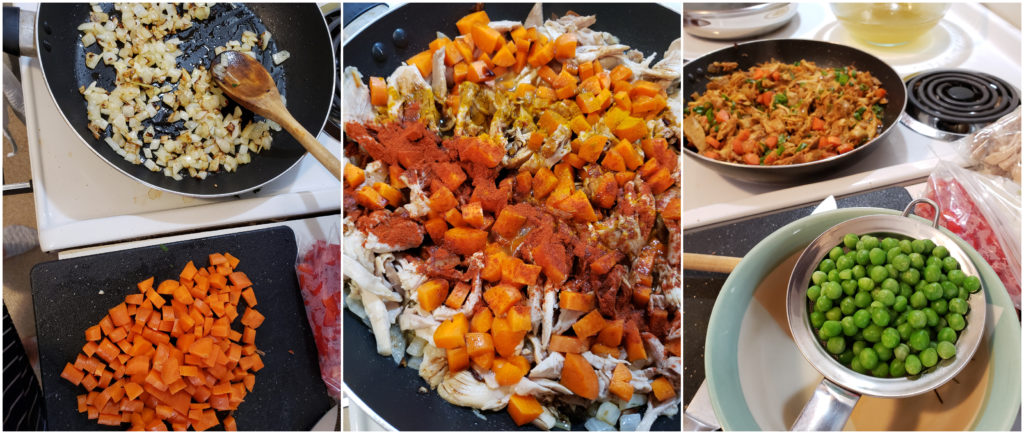 Instructions:
– Rinse your rice in cold water 3-4 times to remove some starch.
– Bring 2 cups of stock to a boil, add tomato paste, pinch of turmeric, 1-2 teaspoons of the annatto, pinch of all the spices, and salt. Taste and adjust as you go, it is easier to add more seasoning later.
– Add the rice, make sure there is around 3/4-1 inch of the stock above the rice, cover the pot, temperature on medium.
– Add the garlic, cilantro, culantro, red pepper, and add around 2-3 tbs of chicken fat.
– Cover and simmer until the rice is done, if you think it's too watery and are afraid of it getting too porridge like don't add more stock and finishing i without a lid.
– In a separate pan, caramelize your onion in chicken fat, medium high heat, reserve, then heat up pan again with chicken fat and caramelize the carrots a little as well.
– Reheat pan with chicken fat if you still have some or olive oil and saute the shredded chicken in chicken fat with annatto and turmeric. This can be done in two minutes since your chicken is already cooked.
– Add back the cooked carrots and onions. Turn off your pan.
– Lastly, add the peas to your shredded chicken mixture, if you get frozen peas: rinse them under room temperature water and then mix in with the carrots, add the onions back and once your rice is done you can mix it all together. (make sure you are seasoning as you go, with salt, soy sauce, and/or worcestershire sauce.
FINISHING THE ARROZ CON POLLO
– I like to finish my arroz con pollo in the oven, I mix everything in this stage (olives/capers, shredded chicken, and rice with vegetables) and spread it all on an oiled (covered in foil if you prefer) baking sheet, at 350F-400F until your preferred doneness. You might have to stir a few times to make sure the whole rice is cooked as you like it.
NOTE 1: I'll keep coming back to this recipe and make it as clear as possible, but this is really how I usually make my arroz con pollo. I have what I call a "lazy version" where I use Maggi cubes (literally has turmeric/annatto/msg and a bunch of delicious stuff that saves time). You can cook all together as many people do.
NOTE 2: I'm careful with the salt because I add a lot of olives and capers to my arroz con pollo at the end so they retain their crunch and saltiness, this is why I make my last adjustment right when I place the baking sheet with the arroz con pollo in the oven.
Optional for serving:
– Sliced toasted almonds
– Raisin haters, some people might actually add raisins, but it is not common, I do love raisins in my arroz con pollo!
– For a more Panamanian traditional party way: serve your arroz con pollo with a side fried yellow plantains (tajadas or caramelized plantains) also with a Russian Potato Salad. Trust me, listen to the podcast on the reason why, haha!
¡a comer!