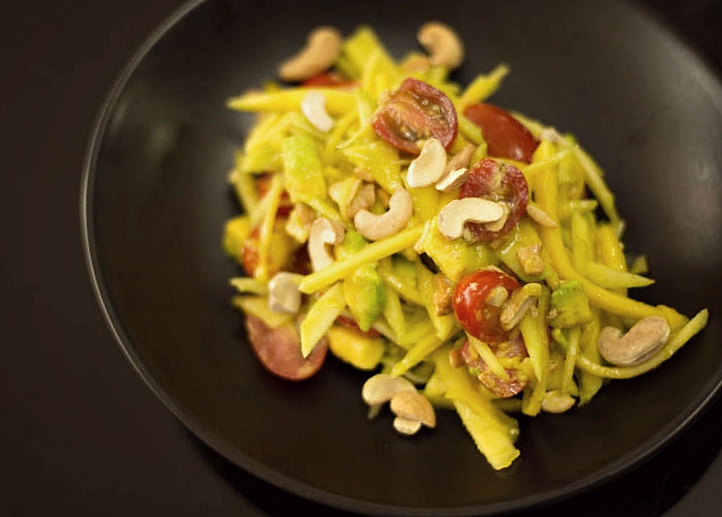 After so many delicious meals at Bangkok Golden thanks my sweet friend Chef Seng, I feel a bit of an expert in tasting Papaya and Mango salads.  Which one is the best? It will always be a matter of personal taste, some prefer Thai style, some others will prefer the Laotian flavours.  For me it all depends on my mood and what my palate feels like, and today is more like a semi sweet/sour with a kick, but not too spicy.
Depending on the season and your budget choose your ingredients, as long as they're good quality and fresh I'm sure it will exquisite. Â The whole point of this dish and the combination of flavors is to work with what you find at the market or grocery store, can't find green mango? Get a green papaya! Can't use fish sauce? Try it with soy sauce!
If you're lucky like me, visit your fish market and get the freshest prawns available for this salad!
Green Mango Salad w/ Shrimps & Cashews
Serves 2-3 people
Ingredients for Salad:
1-3 Green Mangos (depending on the size), sliced into julienne strips
1 Mangotin (June Plum), sliced into julienne strips
1 Garlic clove, pureed
3 tbs of Raspadura (or dark brown sugar)
4 tbs Lime Juice
2 1/2 tbs Fish Sauce (I recommend Three Crabs or Golden Boy)
1/2 cup salted roasted Cashews, chopped and a few whole for serving
1 Scotch Bonnet Pepper, finely chopped
Avocado (1 small or 1/2 med/large size) (I used a buttery kind of avocado for this salad)
Cherry Tomatoes
Ingredients for Prawns:
1-3 large prawns, deveined/cleaned
1 Garlic clove, finely chopped
2 tbs of Olive Oil + 1 tbs of more oil or butter
Salt to taste
PRAWNS (if you prefer to eat them hot then cook them before finishing mixing the salad)
– In a bowl mix the prawns with the oil and salt.
– Heat up pan on high temperature. Â Once it's hot, add prawns with oil 2-3 minutes per side, depending on the size of your prawns. Â Once it starts getting orange/reddish flip them and lower the temperature.
– You could add more olive oil, or the butter and garlic, sauteed for another minute and reserve.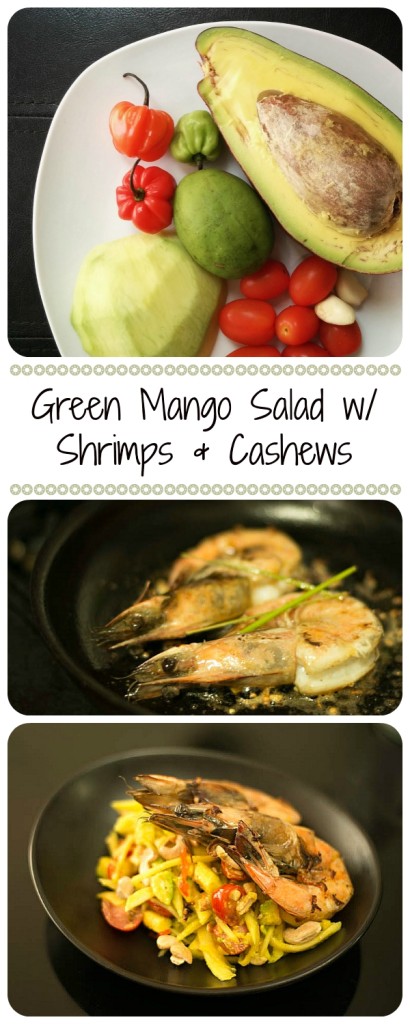 SALAD
– In a mixing bowl mix garlic and hot pepper, until fully combined then add the raspadura/sugar and mix until it has mixed and disolved.
– Add fish sauce and lemon juice and mix the dressing until fully brought together.
– Depending on how sweet your fruits are you can adjust the amount of lime juice/sugar for more or less acidity.
– Add pieces of avocado, mix in and break apart with a spoon. Â Add into the bowl the tomatoes, mango and mangotin, mix all together, add chopped cashews, but be careful to not overmix, it could break apart your sliced fruits.
Serve salad with extra cashews, add prawns and add extra slices of limes for presentation (I love sour flavours so I always end up adding more lime juice to mine).
I could have used a mandoline, pestle and mortar for a much better finish and mix of flavors, but I know you all don't usually have such tools at home, so a knife, chopping board, and a bowl will get the job done!
If you have any questions about this dish, tweet them my away!
¡a comer!