On a Sunday during my visit in Panama a my friend Estrella took me for a day trip to El Valle de Antón in the province of Coclé.
The sun was up and I was so happy I could scream (I love The Cure), well we saw this truck flipped on the road, we don't know what happened but I had to take pictures just because.
Quesos Chela
Lottery Tables!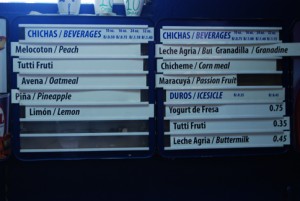 Look at them prices, it used to be cheaper! ha!   Estrella had the Chicheme & I had the Naranjilla, my favorite (at home) is the Chicha de Avena (oatmeal juice?)
Dear Cheese Empanada I miss you!
My romance with food started  while stopping by Quesos Chela buying a Chicheme and a Chicha of Naranjilla (fancy name Solanum quitoense), we ordered one baked empanada stuffed with queso fresco, the thing my friends it's that it is a huge effort to eat just one, but I knew once we were in El Valle we were going to eat many more things, and so it happened.
Back to the Road
And then I was falling asleep and Estrella told me to take a nap, it's very easy for me to get dizzy while driving into a valley, so once we arrived we went for coffee!
I wanted to try all their baked goods but if I did I wouldn't have eaten lunch then, so I just ordered a cup of black coffee with a espresso shot & a piece of 70% Cacao Chocolate, Estrella of course had a Moccha!
Kiaroa Farms, I hope the next time I visit El Valle de Antón I get to stop by their farm, making Goat Cheese!
Estrella un beso guapa!  This trip was her idea!

My trip in Panama was while the World Cup so around this time you could see everyone heading towards a bar with their flag on top of the cars, ready to support their teams.
On our way to the Market! On this picture you can see how unpredictable the weather could go.
I will miss you $1 Pineapples, $1 for 2 Papayas
Pixbae I will always love you!
Nothing much to say that I had a Mamon Chino affair!
Molas, I will buy more the next time
Interesting & Creative hand crafted jewelry

Cashew Nuts! Very sad the Cashew fruit was not in season
The Butcher Shop
Bakery "Panadería"
One of my favorite "orejitas" (little ears), or by the famous name "Palmier"
We so wanted to have lunch at La Casa de Lourdes but they had the restaurant closed since they were getting ready for a wedding reception.  The Hotel Campestre doesn't exist anymore, at the end we ended up going to Los Capitanes.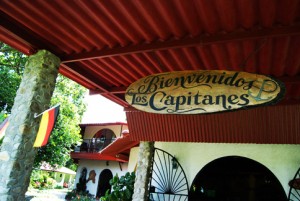 Los Capitanes, the owner is really a German Captain

I ordered the German Parrillada, friendly price, great customer service, terrible sausages, they were not cooked properly, the smoked pork chop was pretty decent.  I also wish they had a better side instead of frozen french fries or white rice.  I gave my parents a gift to stay a weekend here and they had a fantastic time.

Estrella ordered the corvina a la plancha (I have to verify with her), I remember it wasn't anything special and the same problem with the sides.  It's a shame but maybe the next time we will have a better experience.
I had an awesome time, we kept driving around town
We said goodbye to El Valle de Antón and drove back to Panama City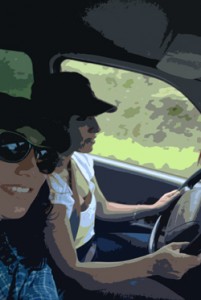 Drastic weather change, that's my Panamá
I really love these wires on El Puente Centenario
Yes, we listened some salsa from Luis Enrique, with that rain we needed something very tropical
¡Dúo Dinámico!
And more fun!
And we were back in the loud city, this car was promoting something on the streets, with very, very loud music and we stuck in traffic.
This trip was on a Saturday, during the World Cup US lost against Ghana so it was sad, however I had a great time during my trip with Estrella.  We ate a lot, we sang a lot of songs, we talked about life & silly things, and the best part is that we spent time as friends the whole day laughing and getting emotional just as two little girls would do if they're left alone.
I went back to my folks home and I gave Estrella one of my tamales, I had Octopus Ceviche and finished the book I started in the airplane.
¡a comer!