My first post from my iPad, hopefully this WP won't drive me crazy.
—–
Salads were never something I looked forward to eat, my experience with them were either plain slices of tomatoes, cucumbers, onions and lettuce or heavy potato salads with tons of mayonnaise. I'm very happy to say that has changed with time and now I can enjoy many typed of salads, some are healthy some are not but salads nevertheless.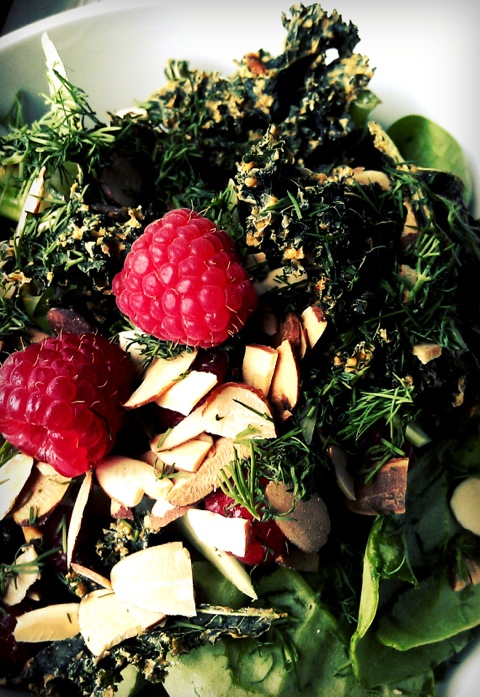 Lately I've been buying my spinach, apples and kale from the Farmers Market and because of their quality I just keep coming back, I recommend it to everyone every time you can hit one just do it!
I will admit I'm not crazy about adding dressing on my salads, I prefer to have texture, crunchiness and a touch of salt and sweetness. On weekends I may add cheese but I'm trying to go as vegan as possible and I'm choosing my battles, I'll save the cheese for pizza days :)
This salad is for 1 person since the husband had quesadillas tonight.
1 bunch of baby spinach
1 tablespoon chopped dill
1 stalk of celery
1/4 cup of raspberries
Toasted almonds (really important to toast your almonds it does boost flavor like crazy!) Serve with Raw Kale chips.
This is not a cheap salad, but that should not discourage you at all, I've made cheaper tasty salads with lettuce, peanuts, etc, I'll make sure next week I make a good one on a budget recipe but today I was really craving these ingredients and made a push on our weekly budget for groceries.
I'm looking forward to visiting the farmers market again this Saturday and get more fresh herbs this time! I'm really enjoying chopping a bunch of them and adding to my rice when serving it, try it sometime!
¡a comer!
NOTE: Kale Chips brand way expensive in Whole Foods! Over $7 for 2.5 oz and they were ok, not as delicious as the New Family Naturals which I get at the farmers market, or of course you could make them yourself.