These were my first actual vacations since my trip to Panama in the summer of 2012. Â At first, J and I were considering visiting Asheville in North Carolina, hibernating for a week at the Wintergreen Resort or visiting the Luray Caverns. Â In the end, we decided to visit Boston since neither of us have been to New England before and we're happy to say that we were very pleased with the results of our trip.
When we were looking for lodging information in Boston, we realized we really wanted to visit the city, but we also wanted to stay away from crowds and the "city life'. Â I'm a big fan of lighthouses and being around New England, we wanted to make sure we would see at least two (we ended up seeing five and once the picture are up I'll link here). Â Salem, Rockport and Gloucester were the towns that got our attention and they were not too far from Boston so based on that, we planned our vacation.
Salem, MA
We couldn't get a room on Saturday night at our motor lodge in Rockport, so instead, we spent the night around Salem. Â We tried a vegan place "Life Alive", which was fantastic, I was so skeptical of their curry and rice, or the broccoli melt wrap, but both dishes had so much flavor, the place itself was nice and bright. Â It was a great place to have dinner after such a long drive, over eight hours!
For breakfast, we ended up eating at Red's Sandwich Shop.  It was highly suggested by some locals and twitter friends that I should try this place.  We ended up seating at the bar and had coffee, blueberry pancakes, sausages and mushroom omelet with home fries.
Gulu, Gulu was great for a drink and cheese, their gluten-free apple pie was really sad and I didn't enjoy it at all, but the crepes looked fantastic, I still regret not ordering their nutella fruit crepes.
Blueberry Pancakes – Red's Sandwich Shop – Salem, MA
Gulu Gulu Cafe – Gluten Free Apple Pie – Salem, MA
Rockport & Gloucester MA
Before this trip, I never heard of Rockport or Gloucester, but I looked at the google maps, read about the towns and saw pictures of the area. Â J loves the ocean and I love small towns so this had the right combination for the both of us. Â Gloucester offered night life but our interested was mostly on food so we were glad we were able to try four different restaurants. Â Latitude 43, Minglewood Tavern, Causeway and Horizon Chinese Restaurant. Â  The mussels, quesadillas and cranberry juice at Latitude 43 were tasty. Â The decor and service were pretty decent.
Causeway offered the best fish and chips I've had in a long time and the baked-buttery lobster was big enough for two people, I still ate it all and savored every bit of that dish. Â As you can see from the pictures, this place isn't fancy, but the service was very nice and if you go in winter, make sure you sit at the back, it got very cold in the entrance of the establishment.
Horizon Chinese Restaurant worked as our last resort for a late rainy Sunday evening. Â It had probably the worst crispy rolls and fried rice I've had in my life, but when you're on vacation nothing really sucks. Â Since I always carry good chocolate with me, that night wasn't a disappointment, we did a chocolate tasting of our own!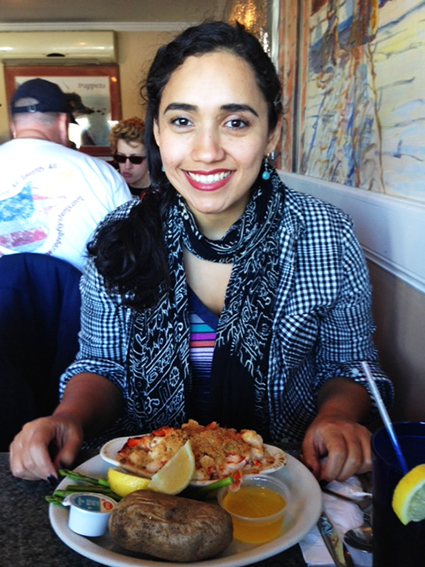 Baked Lobster – Causeway Restaurant – Gloucester, MA
Fish & Chips – Causeway Restaurant – Gloucester, MA
Causeway Restaurant – Gloucester, MA
Fennel / Garlic Mussels – Latitude 43 – Gloucester, MA
J having coffee and a danish at the Bean Leaf Cafe – Rockport, MA (this was our favorite spot for coffee)
Bean Leaf Cafe
Mushoom Pizza – Minglewood Tavern – Gloucester, MA
Two Brothers Cafe – Rockport, MA
Fudgery – Bearskin Neck – Rockport, MA
There were two things we wanted to make sure we did when we visited Boston. Â The first one was walking all the Freedom Trail, which we did, walked the 294 steps of the Bunker Hill, didn't die, and the second thing was eating the lobster roll at the Neptune Oyster Restaurant. Â I requested the lobster to be cold with mayo and a side of the most delicious french fries I had during all my trip. Â The amount of lobster was generous and though I read online that it's good enough for two people (and I did see people sharing it), it was good enough for me, but I'm a big girl so I could handle it. Â After the roll, I had some of my favorite oysters Kumamoto and Kusshi. Â J did the sacrifice to go to this one with me, he's vegetarian, so he had some of the fries and an iced tea.
If you're wondering where did J eat when in Boston, don't yell, it was at Whole Foods. Â It's always a safe place for vegetarian food, and we needed to take a break after walking all the Freedom Trail so we were thankful there was a Whole Foods nearby.
Before taking our train back to the suburbs of Boston, we stopped by a liquor store to purchase local beer. Â I'm terrible at choosing beer and though the folks there were helpful I ended up buying a smoked beer, because who knows why.
You won't see Boston breakfast on this post because we were tight on a budget and our awesome inn by Danvers, offered continental breakfast so that worked great in order to afford the Lobster Roll and other dishes.
The  dessert that I remembered the best was the cannoli from Modern Pastry Bakery in Boston, unbelievable!
I'll be doing another post on the rest of our trip. Â We tried a few places on New Hampshire, Maine and Rhode Island, plus, I have a few pictures of lighthouses that I can't wait to share.
(click here to see the rest of the pictures on my FB Page)
¡a comer!
Lobster Roll – Neptune Oyster – Boston, MA
 Modern Pastry Bakery – Boston, MA