Anything Thai makes me hungry! Â I heard about Pok Pok from a friend who is born and raised in Portland, and then I read all over on yelp, food blogs, etc. Â I think it is a good idea to do a bit research before heading to a place you have high expectations from, and also if like me you are planning to write about it.
Things to keep in mind when going to Pok Pok:
Read most of reviews online, it does help you to have an idea, about prices, specials, dishes to avoid, heat level, all of this helped me to make decisions to drag my family all the way to the SE Division St area (we were staying in Hillsboro).
I'm not fond of lines or waiting over 30 minutes for a table so I made sure I was there around 11:30 am when they open for lunch, no line.
The family doesn't do well with heat so I told the waiter we were chickens to keep all the dishes mild. Â They really followed that and on my side that I do love heat I was happy to try the dipping sauces because they got some spice!
This is what the order came to (and the price as well as you can see):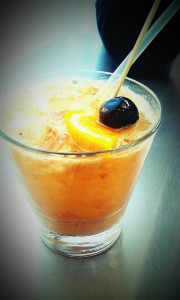 The Whiskey Sour Tamarind drink, I wanted more tamarind, less sour, fair amount of whiskey, (but that's a personal thing so until you give it a try you won't be able to tell)
Coconut Young Water – for $3.00? just avoid it and stick to water, I didn't try the Thai Iced Teas after too many mixed reviews more on the "too sweet" complain side maybe you want to give it a try!
French Press Coffee – silly detail but on the table the sugar cubes were loved! so it was simple and good coffee overall (I don't drink much coffee but the family had some and they were happy with it).
Ike's Wings, are the FREAKING BOMB! I don't care I read comments "too salty", "too spicy", "too crispy", "too fishy", maybe some people had bad experience, on my table everyone was fighting over these wings, they were tasty, I asked for them mild and the server smiled and said "cool" and the rest is history we regret not ordering more, if everyone is going to order something small besides the wings the truth is that one order is enough for 4 people. Â I tasted garlic, fish sauce and chilies. Next time I'll order a whole set of wings for myself… I might share… maybe…
Pok Pok Special tasty roasted chicken, I was hoping the skin was crispier, but it's hard to compete against the wings. Â It is cheaper though, and also comes with sticky rice and two side sauces to dip in. Â A small Papaya Salad and I know how many people feel about this, they say nothing special, but I think simple things make a papaya salad perfect, enough tomatoes, the sauce, crunchy papaya, good amount of peanuts, and this salad was just tasty, everyone in the table enjoyed it.
Khao Muu Daeng / Muu KrobPork Rice – BBQ Pork so tender and juicy! we switched the jasmine rice to Coconut, I loved the coconut rice but wouldn't suggest the change since the sauce for this pork was so mild in flavor it got lost in the rice, I didn't care for the sauce, maybe it's supposed just to be spicy and since we requested all the meals mild that could have affected.
Next time I visit I will order wings again, sticky rice and for sure will try the Beef Salad!
Desserts now, Pok Pok offers 4 options we ordered three.� Sankhaya Durian, I was so surprised to read great reviews on this dessert and actually everyone in the table except for me enjoyed it.  I didn't like the Durian custard and though the Durian flavor didn't throw me off because it was really fade almost not there, still the texture, coconut sticky rice and the coconut milk on top had touch of salt, I can say I hated this dessert, but again I'll mention EVERYONE in the table except for me liked it.
Pok Pok Affogato – strong coffee on small bowl with a ball of coconut ice cream and 2 crispy Thai fried donuts, it was just so delicious how the ice cream melting with the coffee tasted, I couldn't care less for the donuts, they had not much flavor and were a bit greasy so i wasn't interested using them to dip on the bowl. Â Once I'm back home I can't wait to serve my coffee with coconut ice cream; maybe this time I'll add peanuts on it, yum.
And the most unexpected was the Coconut Ice Cream Sandwich, I really don't know what I was thinking I pictured something else, it was indeed a sandwich, look at the picture, soft bread almost like a sweet Hawaiian hot dog bun, with rice and shredded coconut, coconut ice cream, i think rice and chocolate sauce I can't describe it well, this one everyone also enjoyed I tried 3 bites and it was interesting but I only cared for the ice-cream, it just didn't work for me.
It is like a dive-kinda-joint just that cleaner and parking totally friendly around at least on lunch hours.
Pok Pok in four words: "Order the freaking Wings!"
¡a comer!