Today was very interesting my folks and I woke up so early so I could be on time at the "Dirección de Pasaporte" so I could renew my passport, while I was in line Dad took mom to work and then he showed me the sidewalk across which is known as "Cuara-Cuara" meaning "quarter-quarter", the name is pretty much because every single item these little joints sell cost one quarter, so I took few pics and bought an Hojaldre (fried bread) & a Bollo, which I didn't eat (not really hungry), but felt I should cooperate (Dad gave the food to someone else).
These are the picture of the places I went today with Viviana which drove me everywhere, it was awesome, I had so many anecdotes, from the Cop who told me I shouldn't carry a camera in Avenida B around Chinatown, to the car who blocked us but thankfully he had a phone number displayed on his window because is selling the car.  I found out that Chinatown is pretty much located in el Dorado and not in the actual Chinatown where you can see the picture with the Chinese wall.
Most of the places I ate today bring fond memories and though they are not really tasty they had a special place in my heart because those are the places my parents could afford to "take me out" for dinner or a special breakfast.  Somedays after school, before a class, after waiting for hours in the Seguro Social Hospital, so pretty much they mean a lot to me.
This is my Tuesday on pictures, I also hope everyone had a meaningful day.
Peace.
Hoy fue un día muy interesante, mis padres y yo nos despertamos muy temprano para llegar a tiempo a renovar mi pasaporte, mientras yo hice file, mi papi llevó a mi mami al trabajo y luego cuando el volvió por mí me mostró la aera de en frente con los famosos puestos de comida "Cuara y Cuara".  Compramos unos bollos y hojaldres que luego Papi le dio a unas personas porque no teníamos hambre.
Estas son las fotografias de lugares a los que fui hoy con Viviana que me llevó a todos lados, fue muy chévere, tuve muchas mini aventuras, desde un Policía regañándome por llevar mi cámara a Avenida B, hasta un carro obstruyendo nuestra salida en el Dorado, por suerte el hombre tenía el número de teléfono en la ventana porque tenía su carro en venta (es un cuento largo ja!).  También que ya es un hecho que el barrio chino está en el Dorado apesar de que la pared China está llegando a la Avenida B.
Casi todos los lugares en donde comí hoy me traen memorias lindas y aunque la comida no es muy deliciosa, estos lugares tienen un lugar en mi corazón porque esos fueron los restaurantes en donde mis papas podían llevarme a cenar o a tener un desayuno especial.  Algunos días luego del colegio, otros días antes de una clase, también iríamos luego de esperar por horas en alguna cita en el Seguro Social, así que significan mucho para mí.
Este fue mi martes en fotografías, yo espero que todos también hayan tenido un día tan lindo como yo lo tuve.
Paz.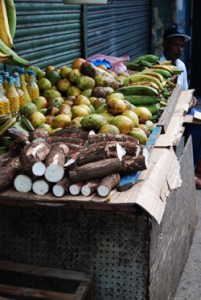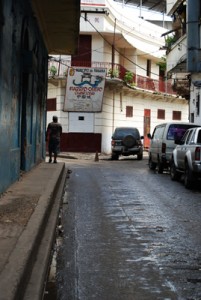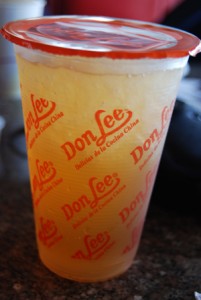 And for dinner I made Salchichas guisadas (sausages in tomato sauce) with Patacones (double fried green plantains) and a tomato salad. Simple dinner yet full of love.
—
Y para la cena hice unas Salchichas guisadas con Patacones y una ensaladita de tomate.  Una cena simple, pero llena de mucho amor.
¡a comer!