Not in season but boy I've missed tomatoes, thank you Mexico.
I promised some friends I would share my regular day dishes recipe since I became vegetarian. Â I have to admit it hasn't been easy and more when I was talked into old school Atkins Diet, so you can imagine how of a challenge it has been this whole lifestyle change; then I get lucky and I find recipes I make weekly depending on the season, my cravings or my budget: Chili.
This one is for you my dear friend Ileana (for those who love makeup & anything beautiful read her blog she is awesome!)
Recipe:
1 cup cooked kidney beans
1 cup cooked black beans
1/2 cup cooked quinoa
1 diced Sweet Pepper (I used orange)
4 stewed tomatoes (1/2 can reg. size)
1 carrot, 1 medium yellow onions (slice)
1 small bunch of cilantro (slice)
1 small bunch of scallions (slice)
2 stalks of celery
Cumin, paprika, salt & pepper
Directions:
1. Â Oil your pan and on high heat until it's almost smoking then sautee your onions, once they are almost caramelized add the sliced carrots, peppers, then the celery.
2. Â Season the veggies and taste, cook for 2 more minutes and add the quinoa then the tomatoes, cook for 2 minutes then add the beans, depending on how chunky you like your chili adjust with vegetable stock or water, add cilantro and scallions cook for 1 more minute taste as much as you can and serve!
NOTE:
I served this chili with corn tacos, a side of sauteed peppers and corn, guacamole (store bought I haven't had luck with avocados these past couple of weeks so this was safer) and pico de gallo.
This recipe is so easy to adjust depending on the veggies you have, beans and spices!
No excuses for making a delicious, budget-friendly vegetarian meal folks!
¡a comer!
Sauteed Corn & Sweet Pepper w/ Garlic
Pico de Gallo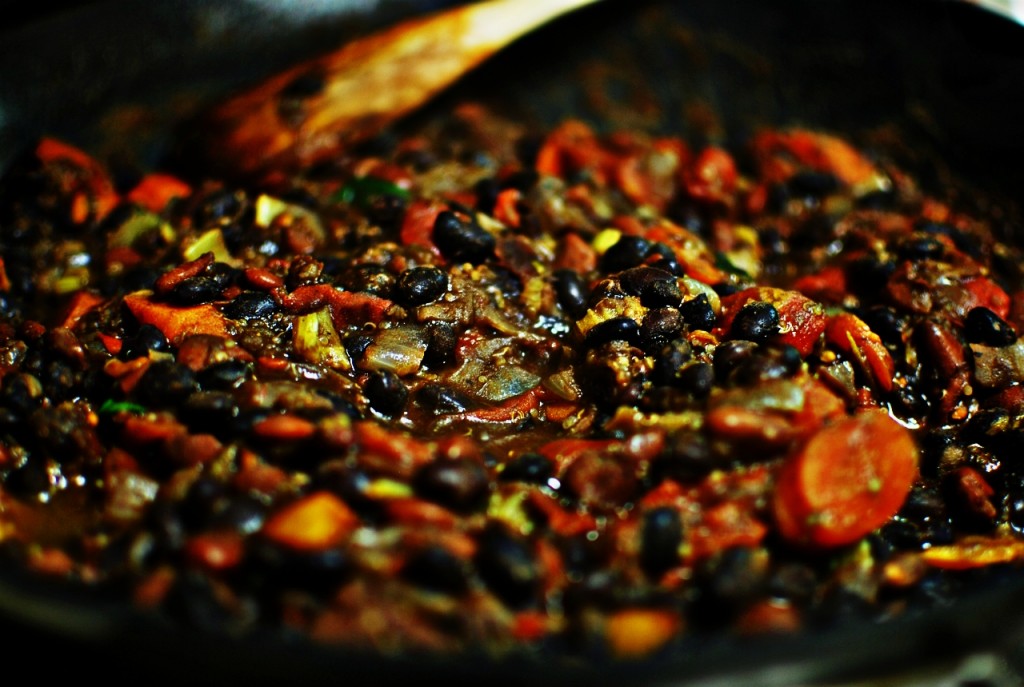 Chili w/ Veggies
Guacamole from Grocery Store