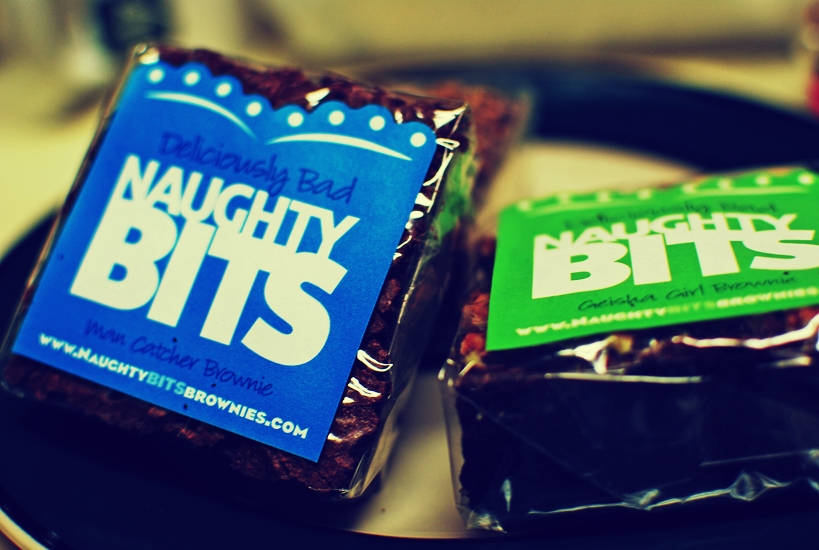 I met the lovely Leigh Lambert at the last DC Food Blogger Happy Hour , we laughed and talked about anything food and if you can imagine anyone making Brownies sexy, Leigh fits the profile pretty good!
These brownies have a lot of personality my two favorite were the Barista Bar  and Living in Sin.
I don't drink coffee but I do like it's flavor on some goodies, and in brownies its probably one of the best! This is how it went:
Me: (opening the box) "Pretty packaging, oh wow these brownies are huge!"
The Boy: (staring at the brownies) "Do I have to share with you?"
Me: (gives him the evil eye) "You know I brought those brownies?!"
The Boy: (takes a deep breathe and finally comes to his senses) "Okey, I'll bring the milk"
Me: (takes a bite of the Barista Bar) "Ok I can't tell people anymore I don't like coffee this is awesome, how the espresso brings out a touch of bitterness in the brownie making me smile" Â (Stares at the Boy) "where is the rest of the Espresso brownie?"
If I was going to have either of these brownies I would probably have them with Coffee/whipped cream, almond milk vanilla ice cream, warmed caramel? When trying the Geisha Girl I was craving tasting it with a Spiced Soy Chai Latte!
Visit Naughty Bits brownies on  www.naughtybitsbrownies.com. You can find these goodies also at Society Fair, Zen Tara & Capital City Cheesecake!
"The brownie you can take home to mom, or take home to bed." Our deliciously bad creations are hand-made in small batches using fresh, natural ingredients. They are individually wrapped in bio-degradable cello and boxed in sets of six. Pick your passion." 
Leigh Lambert