Kunjip
Why this trip–> end of the year, 6 yrs anniversary, extra tickets from Vamoose, the boy (let's call him Jo) and me finally coincide with 2 days off on a road!
Budget–> the least we have to spend, zero shopping, eat well & walk lots.
We left on a Friday morning, took the Vamoose from Rosslyn to NYC, arrived 5 hours later, (TIP about ROAD TRIPS), buy water bottles ahead, and also chocolate, nuts (snacks), yes do bring a sandwich (it comes handy).
—
Motivos del viaje= fin de año, aniversario de 6 años, boletos extra de Vamoose, el guapo (Jo) y yo coincidimos con 2 días libres seguidos!
Presupuesto: lo menos que tengamos que gastar, asi que cero compras, solo comer bien y a caminar.
Salimos un viernes en la mañana, tomamos el Vamoose desde Rosslyn, llegamos a NYC luego de casi 5 horas, importante (Road Trip Food), así que no hagan como yo y compren su botella de agua desde antemano, traigan nueces y chocolate, y un emparedado (eso si lo hice yo). Yo gasté en nueces, chocolate y agua cashin$$.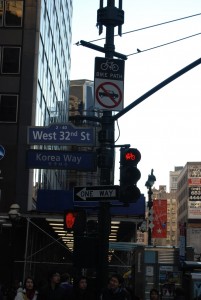 Koreatown
Manhattan at our faces, and us starving, walked our way to Koreatown straight to Kunjip thanks to the idea of lady Jackie Gordon (twitter –> @divathatateny) ordered a Beef Stew, dumplings and lots of barley tea, all delish and quick, the beef stew was OK a little on the runny side for our taste, but it was very affordable thanks to being on time for lunch prices.
—
Con tanta hambre corrimos hacia Koreatown y gracias a Jackie Gordon (twitter –> @divathatateny) comimos en Kunjip y ordené un plato con Carne como stew, nada que tuviera órganos ni cosas que el joven Jo no coma, también pedí unos dumplings, y claro mucho té de cebada. Fue rápido, todo salio deli (el beef stew normal, mucho líquido a nuestro gusto), pero llegamos en hora de almuerzo (importante) así que la cuenta fue económica.
Kunjip supports Park Ji-Sung from Manchester United (the boy's favorite team)
Walked to the Holiday Inn, dropped our stuff (good hotel, clean, yes i checked for bedbugs and clean, good location).  We just walked more getting to know more Manhattan and thanks to another tip from Jackie we ended up at EATALY, clean, pretty, new, meh! We tried desserts, coffee, I didn't want to sit and have a glass of wine to be honest, or try the gelato, I couldn't get pass the ambience, not my thing, next time i will just follow Chef Liam's advise and go straight to Brooklyn to explore Italian good stuff.  (EATALY good for tourists, it seems save, great for big families).
—
Caminamos hasta el Hotel Holiday Inn (excelente, simple, rápido y cerca de todo y limpio! revisamos la cama de arriba abajo, no begbugs para esta jovencita). dejar las cosas, a caminar y caminar, quedamos en Eataly otra recomendación de la Diva.  ok EATALY bonito, limpio, nuevo, meh! Comimos postres, cafe, no tomamos vino, no soporté el ambiente y la verdad es que como dice el Chef Liam, para explorar comida italiana mejor esperaré mi próxima visita a NY directo a —>  Brooklyn!
Tiramisu, a Chocolate Mousse and a Rum Coffee cake, expensive, pretty but flavorless
Then we had a slice of pizza, $1, one of the best thing that have happened to me while visiting NYC, so cheap, tasty, fresh, no it is not Napoli pizza or Pupatella, but it was perfect for $1 quick snack.
We met with Lils a friend who's BDAY is the same as our anniversary, and between Mexican and Thai, we decided to try Indian (my real first Indian restaurant).  The name Bombay Garden, does it have good reviews? who knows, it was there, we were hungry and it was not a chain that is accessible in DC, those were the rules.
—
Celebramos con Lils ya que su cumpleaños es el mismo día de nuestro aniversario y estaba visitando NYC, así que luego de más caminar decidimos cenar comida India, en vez de Mexicano y más pizza. (Antes de encontrarnos con Lils degustamos una rebanada de pizza a $1 lo mejor que nos pasó en Nueva York, calientita, llena de queso, no es Pupatella o Napoli, pero por $1 fue mucho mejor de lo que me esperaba, el día en que en DC encontremos algo a $1 ja!
El restaurant Bombay Garden, es bueno? tiene buenas recomendaciones? nunca super, ni todavía he averiguado, porque no tengo internet conmigo así que a experimentar!
$1 slice pizza loved it!
$1 I still can't believe it (ok $1.50 + pepperoni)

Jo ordered Beef Curry (delicious), Lils a Tikka Chicken (so so), I ordered somosas (not spicy, a little sweet, but delish) Almond Naan (ill just go with the classic garlic next time), mixed meats (boring and ok this appetizer).  Lils introduced me to the Mango Lassi (yogurt mango drink) and I had a mango juice.  The restaurant will give you as much Basmati Rice you want without charging, and it was good stuff.  Good service, except until the end the waiter (owner looking face), started cleaning our table with a for, removing the grains of rice, yes bizzarre.
—
Lils pidió un Pollo Tikka (más o menos), el Jo pidió un Beef Curry (delicioso) y yo pedí Samosas no picantitas, un poco dulce pero deli, Naan de almendras (prefiero el de ajo), y unas carnes mixtas (aburrido y normal el aperitivo).  Lils me introdujo al Mango Lassi (una bebida de mango con yogurt) y yo pedí un jugo de mango regular.  El restaurante le da todo el Arroz de basmati que uno quiera sin cargo extra y la atención fue chévere, excepto al final que el mesero (cara de dueño) empezó a limpiar nuestra mesa recogiendo granos de arroz con un tenedor, bizzarro.
Awful picture, but great Samosas
After almost an hour of walking in the cold, searching for a bar, we ended up in Hard Rock Cafe, its OK no shame! so the lamest place of this trip was the most expensive one, there u go, I said it!
Bye Lils.
—
Luego buscar y buscar donde tomar, yo juro que no encontramos un solo bar en la calle de nuestro hotel al Times Square y solo queríamos un trago, solo diré esto, tomé en Hard Rock Cafe, sin penas, fue lo más caro del trip jajaja.
Ciao Lils.
Pork Buns
Saturday's breakfast we tried the Momofuku Milk Bar, lovely, delicious, beautiful, trendy, totally jealous it doesn't exist in DC area, but too expensive.  Tried the Cinnamon Bun Pie (it has butter & cream cheese, sinful I know!!!).  And of course the Pork Buns, so pretty, so cute, so SMALL! delish still. Regrets? Not trying the "spiked" Milkshakes they have, and not buying the Kimchi butter, yes I'm still beating my head against my computer, I wake up, I'll keep going).
—
Sábado desayuné en el Milk Bar de Momofuku, delicioso, hermoso, envidias de no tenerlo en DC, pero muy carito, Pastel de canela y Queso crema (Cinnamon Bun Pie), y el Pork Bun (hermoso y delicioso pero por $9 eh… si vas para Chinatown solo  prueba los Batidos que llevan licor y yo no probé (golpeo la cabeza en contra de mi computador), despierto, prosigo.
Still missing you Cinnamon Bun Pie
So many beautiful & tasty things we saw here!
Maple Cotton Candy!
Knock Knock, who's there? Not Bourdain

Still hungry, we stopped at Moonstruck Diner (big mistake, it was as Ihop with worse pancakes, just as Silver Diner), Jo ordered a toasted bagel with cream cheese & smoked salmon (he loved his breakfast), my pancakes were terrible my eggs were meh, and the maple syrup and honey were awful (how can that happen?).

—
Todavía con hambre nos detuvimos en un diner llamado Moonstruck Diner (error, como un Ihop, pero más limpio y peores pancakes, comparable con Silver Diner), Jo pidió un bagel tostado con salmon ahumado y queso crema (a él le encantó su desayuno), yo tenía antojo de pancakes con huevos fritos, y es que ni el sirope de arce valió la pena.
Ignore the pancake look at the bagel in the blurry background
Walk, hanging around, we got to see the guys from Paranormal State, nice boys, I was a paparazzi for a second and I think I also saw Brooke Shields in the morning, but she looked lost, worried and in a hurry so I didn't even say hi.
—
Caminar conocer, vimos a los chicos de Paranormal State, lindos, buena gente, fui paparazzi por un segundo, también me pareció ver a Brooke Shield en la mañana, pero se veía preocupada y apurada así que ni para qué saludar.
Sergey & Ryan (Paranormal State)
Another slice of Pizza, from a restaurant this time, $4 but I needed ladies room and to take a break after so much walking.
Visited St. Patricks Cathedral, and all the saints statues fell, (and I am just kidding), did pictures, say hi to nice people and walked towards dreamy 5th Avenue, full with people going and coming nowhere and everywhere.
Coffee starving mode until we found a Espresso Bar Zibetto (very nice, great barista, pastries, delish hot cocoa), and we kept walking.
—
Probamos otra rebanada de pizza, esta vez de un restaurante, $4, mejor estuvo la de $1, pero no me quejaré necesitaba instalaciones y descansar mis piernas para seguir explorando.
Entramos a la Catedral de San Patricio y se cayeron los santos (solo bromeo), fotos, saludar a todos y caminar hacia la 5ta Avenida, de ensueño, repleta de gente, que va y viene para todos lados y para ninguno.
Nos moríamos por un café y nos encontramos con un Espresso Bar Zibetto (acogedor, barista chévere, algunos pastelitos, buen chocolate caliente) y a seguir caminando.
Good Hot Cocoa, great Espresso, nice for a break
Running out of time ended up eating at the Counter Burger, we found it on our way to Penn Station, this Burger lovely joint was even still on the works of the sign, (1 week opened).  I ordered Turkey burger w/ ciabatta bread, pepperoncini, tsatziki, feta cheese (very ladopsomo style), Jo had a classic one (i had his pickles as usual) and we shared Sweet potatoes delicious fries w/ a Chocolate Shake (my idea, no regrets til this day).
—
Se nos agotaba el tiempo  moríamos de hambre así que entramos a un lugar que todavía le estaban instalando el letrero del Counter Burger en camino hacia Penn Station.
Burger – Fries & Shakes
Jo "the boy"
Me happy waiting for my burger

Yo pedí de Pavo con queso feta, pepperoncini, tsatziki, (bien ladopsomo style) y Jo pidió una clásica, pedimos camote frito (sweet potato fries) y un batido de chocolate (perdón esa fue mi idea).  Delicioso todo, el mejor mesero del mundo, me encantó el lugar, nuestra comida, todo fue perfecto para decirle adiós a NYC de una forma muy tradicional con hamburguesas, pero nada como lo simple bien hecho, te deja feliz.
Turkey Burger the sauce made it delish! (the meat was a touch dry)
The place looked clean (as you have noticed clean is important for us hehe), lovely waiter (he was indeed adorable and nice); our food was simple but well executed my favorite combination.  It was a great way to say bye to Manhattan's food simple & cheap.

On our way to the bus, I bought roasted nuts from a street vendor (Manhattan smells like Hot Dogs, Pretzels, Kebabs & Roasted Nuts!
—
Camino al bus compré nueces tostadas de un puesto de la calle (todo Nueva York huele a Perros calientes, Pretzels, Kebabs y a estas nueces tostadas)!
Walking towards the bus we didn't say goodbye, but a "see you soon" and the next time we will take over Chinatown & Brooklyn.
—
Llegar al bus y decirle no adiós, pero nos vemos pronto para esta vez invadir Chinatown y Brooklyn en nuestra próxima visita.
¡a comer!