Embassy Chef Challenge 2012
Thursday, March 8, 7:30 – 10 pm, 2012 (Rest of the photos on my FB page)
I attended the fourth edition of the Embassy Chef Challenge, an annual culinary competition for world-class embassy chefs.  It was celebrated in the atrium of co-host Ronald Reagan Building and International Trade Center.
It was my first time visiting a competition of this kind and it was quite an interesting experience since all the dishes were non-vegetarian so for the most part except for Chef Nazha from the Embassy of Morocco and her lovely dessert "Milk Pastilla w/ Nuts & berries, the only dish I could eat completely!
The event was really well organized, and the attention to detail was superb with informative literature for those who were not familiar with Chef's names, the waiters gracious and attentive and of course the ladies at the bar preparing a non-easy-on-the-vodka Cosmo!
I got the chance to see few a friends and meet and speak to some of the Chefs, when it got packed it was a bit hectic to move around and even to get to some auctions that were running in the middle tables.   I recognized Tim Carman from the Washington Post and Chef Carla Hall trying the dishes since they were part of the Judges table.  It made me realize I would never be chosen to become a Judge for this kind of competition unless it was desserts, and even then many Chefs/Cooks get a bit avant-garde with meaty ingredients so I would have to watch out haha.
I want to thank Jessica Marlatt from Cultural Tourism DC for inviting me to such a fun and cultural event that I enjoyed myself even if I couldn't try most of the dishes!
Embassy Chef Challenge 2012 chefs:
Chef Devin E. Johnson, Embassy of the Commonwealth of the Bahamas
Chef Sen Sun, Embassy of the People's Republic of China
Chef Malknaz Maisashvili, Embassy of Georgia
Chef Viktor Merényi, Embassy of Hungary
Chef Djamel Amroune, Embassy of the Republic of Iraq
Chef Sherene N. James, Embassy of Jamaica
Chef Shogo Shimodaira, Embassy of Japan
Chef Yerlan Abdrakhmanov, Embassy of Kazakhstan
Chef Young A. Byeon Lee, Embassy of the Republic of Korea
Chef Nazha Kasraoui, Embassy of the Kingdom of Morocco and 2009 Embassy Chef Challenge Winner of Judge's and People's Choice Award
Chef Sondre Bruvik Ellingstad, Royal Norwegian Embassy
Chef Channa Perera, Embassy of Sri Lanka
Chef Vincent Muia, Embassy of Switzerland
VIDEO: Behind the Scenes footage of Embassy Chef Challenge's, Challenge Denmark
Slow Cooked Beef/potato/dried baked tomato/country style pasta (Hungary Embassy Winner)
Smoked Veal Loins (Embassy of Switzerland)
Tteokgalbi, grilled seasoned beef, and gujeolpan (Embassy of Korea)
Milk Pastille/nuts/berries (Embassy of the Kingdom of Morocco)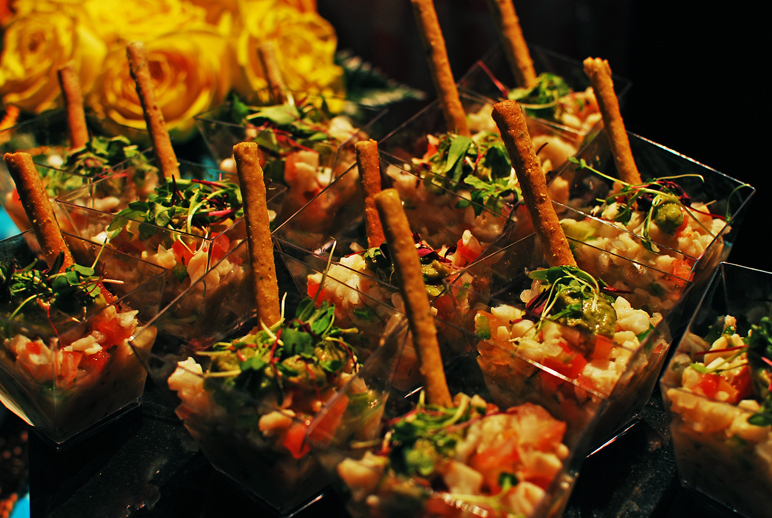 Ceviche on top of Lobster Salad/Mango/crawfish (Embassy of the Commonwealth of the Bahamas)
Denise Nguyen & Philippe Lajaunie 
Judges welcome last judge & previous Embassy Chef Challenge 2012 winner Chef Lars Bees
Got anything to say? Go ahead and leave a comment!