LIME Fresh Mexican Grill (next to the Cheesecake Factory)  2900 Wilson Boulevard, Suite 104 Arlington, VA 22201
 I was lucky to be invited to try the Menu at the Lime Fresh Mexican Grill along with other food bloggers and guests.  I appreciate vegetarian friendly places and this certainly is!
Let's get it straight, I've never been to Mexico but yes I've had Mexican meals cooked by natives and at Mexican-Panamanian places which are different than the ones in the US. Â If you have been to Chipotle, Baja Fresh or Qdoba Mexican joints the menu goes in some similar way but Lime has the advantage of offering a great ambiance, I was really surprised to find a restaurant-comfty set up, waiters bringing your food, yet it is fast paced (there are dishes I was told might take more time like the Grilled fish).
About the food, the most important detail, I tried 4 types of guacamole and my fave was the Abuela's Guac, tasty, great portion and pure avocado flavor with spices and garlic. Â The Nachos, tacos, salads, burritos, quesadillas, and fajitas all had fresh veggies, guacamole, sour cream, organic black beans, and for vegetarians like me instead of having any kind of meat you can request grilled peppers and onions.
For the drinks I had a Corona Light, I'm not a big fan of beers but this one got the job done though they have other options, soft drinks, jarritos and frozen tequila or sangria.
Sopapillas, oh how I miss those right now, they sell it in this paper bag covered with sugar and cinnamon, they are addictive, come to your table warm and with sides of agave nectar or you can always ask for whipped cream, this was simply delicious! NEVERMIND the cupcakes! It's the time for fried dough to have some space and I don't want to hear how easy it is to eat a cupcake while you are walking because the Sopapillas are even better, warm and you can share them, try them because I say so, trust me no regrets!
Lime also offers Cinnamon Chips & Key Lime Pie and friendly options for children, the place itself is very kids-friendly.
The Staff is menu-savvy and super friendly.
The Hot Sauces, I would really appreciate a birthday gift with those sauces, I enjoyed each one of them I was happy to be able to tolerate all the heat (after so much Laotian food I'm proud to say I can handle other kinds of heat haha!).  My big favorite was the Chipotle hot sauce, I regret not buying a bottle that day but I live nearby so I shall go back pay them a visit, enjoy a quesadilla, a beer and of course my new affair: those sweet & warm Sopapillas.
¡a comer!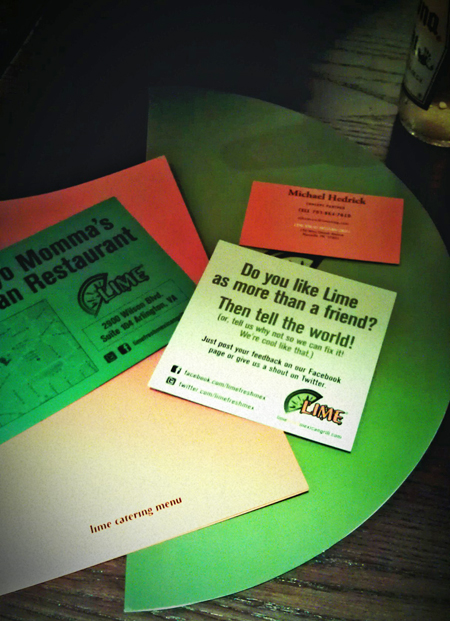 Abuela's Guac Classic kicked up with tomatillos, garlic and onions.
Beer & Jarritos selection
 
Nach-Yo-Mooma's Nachos 
Sopapilla
Key Lime Pie