By: Mitch
Longtime no see Cocinerita readers but it looks like I'm back to writing (not that I've written a lot though! lol…). The recipe I bring you today is "ganz einfach" as germans would say…(super easy). Lots of Vitamins E and a good source of carbohydrates, specially when you are one of those that feels sleepy after lunch and don't drink coffee at all, as me (love the aroma not the taste).
I hope you enjoy it. It goes wonderful as a side dish, as a main dish with some greens or even for breakfast! Have fun!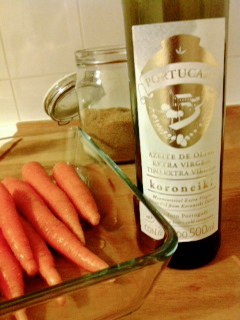 Ingredients:
1 bunch of Carrots (Normally I buy them from the Farmers Market, I go for the thin ones because they soften faster)
1 tablespoon Brown sugar
2 tablespoon Olive Oil
2 tablespoons Balsamic Vinegar
2 tablespoons Honey
Salt and freshly crushed pepper
Directions:
Pre-Heat the oven at 160°C (320°F)
First scrub the carrots with brown sugar and drizzle them with olive oil.
Put them on the oven and roast for 25-30 min.
Meanwhile prepare a Balsamic and honey vinaigrette. Mix well.
After 25-30 add the vinaigrette to the carrots and roast them for 5-10 minutes more.
Season with salt and pepper.