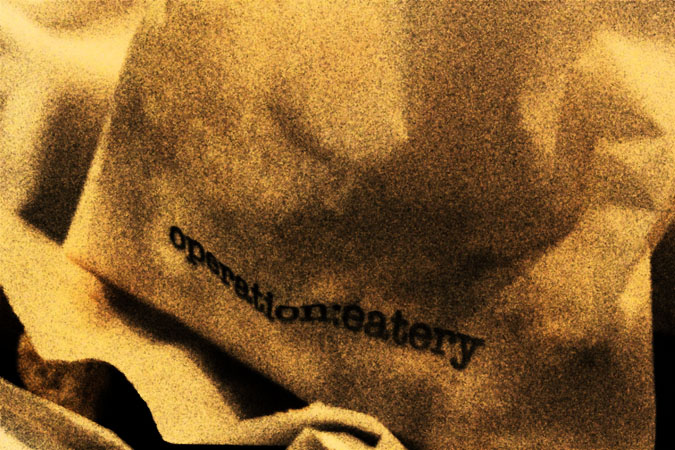 By: Rebecca Layton Gunter
It's so fun to support great galas and fundraisers by hosting a Chef's Table.  On October 28, we joined other restaurants, caterers and craft bartenders at the City Club of Washington's Charity Classic.  Proceeds benefit lots of great national and local charities,  including a personal fav: SOME (So That Others May Eat.)
City Club folks w/ Chef Richie & Marie Kadouno
Chef Rich delighted party-goers with wax bags filled with Old Bay Pork Barrel Rinds and Foie Gras/Pecan Cracky Snacks.  Where did Chef Rich come up with these great concepts?
"I chose the two dishes with two key elements in mind: ease of execution and whimsy. I have found that these events, while for charity, primarily serve as a vehicle for your product and you as a chef.  I have found that the less stressful manner of execution of the product allows you more time to interact with the guests."
These irritable snacks quickly turned curious party-goers into new friends.  (It didn't hurt t be stationed next to the Halloween-themed Ice slooge doling out scotch-based "up" cocktails!)  We were honored to join Ian and the City Club of Washington to support great causes and showcase the o:e brand.
Follow on Twitter @operationeatery Like operation:eatery on FBhttp://www.facebook.com/operation.eatery
Photographs during this great event:
David Barber (of Atlantic Seaboard Wine Association) and a representative from Mandu
Marie Kadouno (operation:eatery) & Bartender Clay (W Hotel)
Two lovely ladies enjoying the event
Chef Richie (operation:eatery) & Chef Rahaan (Personal Chef)
JP Caceres (Bartender from Bourbon Steak)
JP Caceres' Pineapple Pisco Sour
———-
Recipe for Foie Gras & Pecan Crack Snack!
yields: 15 cups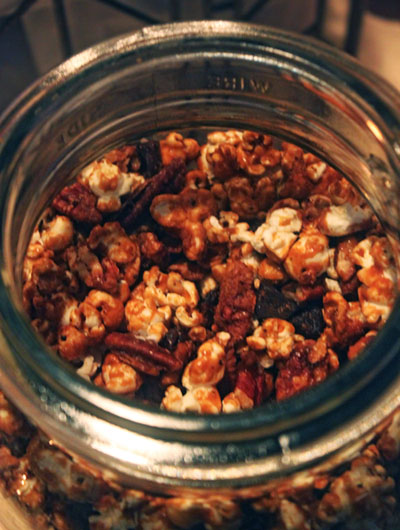 Ingredients:
15 cups plain popped popcorn , unpopped kernels removed
1 cup toasted pecan pieces
1 cup plus 2 tablespoons packed dark brown sugar
8 oz rendered Foie Gras fat, strained with cooked pieces reserved
3 tablespoons light corn syrup
2 tablespoons dark molasses, such as Grandma's Robust
1 teaspoon Maldon salt
3/4 teaspoon vanilla extract
1/4 teaspoon plus 1/8 teaspoon baking soda
Instructions:Â 
1.  Heat the oven to 250°F and arrange a rack in the middle. Coat a large roasting pan with butter. Place the popcorn, pecans, and foie pieces in the pan and stir to combine; set aside.2.  Place the brown sugar, Foie fat, corn syrup, and molasses in a medium heavy-bottomed saucepan over medium heat and bring to a boil, stirring occasionally with a rubber spatula until the sugar has dissolved, about 5 minutes. Continue to boil without stirring for 3 minutes.3.  Remove from heat, add the vanilla and baking soda, and whisk until the caramel is light in color, foamy, and has doubled in volume.4.  Immediately drizzle over the popcorn and pecan pieces, stir with the rubber spatula until thoroughly coated, and spread into an even layer on a parchment lined sheet pan.5.   Bake, stirring with the rubber spatula every 15 minutes and scraping up any caramel from the bottom of the pan, until a cooled piece of popcorn is very crunchy, about 45 minutes total.6.  Sprinkle evenly with Maldon salt and allow to cool completely at room temperature then serveAdapted from the Cracky Snack recipe @Chow.com