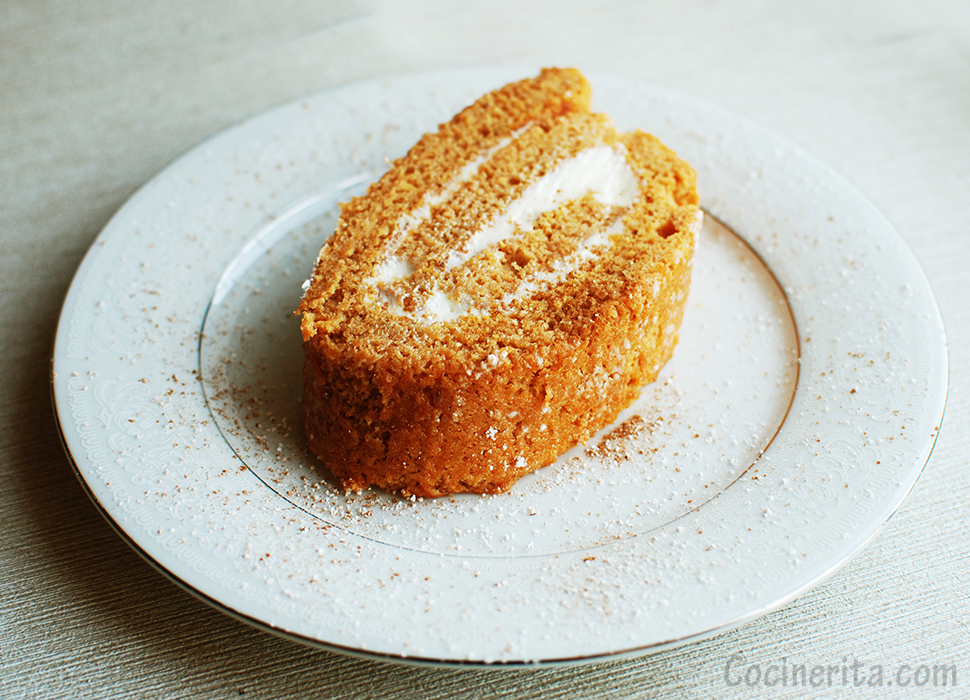 I baked my first jelly roll over 5 years ago as I used to think it was a complicated pastry to make, so instead I would just buy it. Â  I took a basic baking class and thanks to it I can come up with simple recipes for baked goods such as cupcakes, breads, muffins and rolls. Â It's awesome to be confident in the kitchen and being able to improvise without always following a recipe.
Either way, if you're one of those who need to follow a recipe word by word, instead of improvising recipes, it's okay, as long as you feel comfortable and enjoy your experience in the kitchen, I say go for it!
This is a very easy recipe for a pumpkin roll which in Spanish is also called "Gypsy Arm" (there are lots of theories on the name's origin). Â  My mom used to tell me that it had to do with the gypsy shirts, but you're free to believe either of the stories around. Â If you're a person who loves a lot of filling I suggest to increase the filling recipe by 50% more of the quantity showed on the recipe.
Serves: 10 – Cooking Time: 30 minutes plus 1:30 for the cooling off time for cooling off/slicing
Ingredients:
4 large eggs
3/4 cup AP flour
5/8 cup sugar (3/4 cup if you have a sweet tooth)
2/3 cup pumpkin pure
1 tsp of lime juice
1 tsp baking powder
1 tbs cinnamon
1 tsp ginger
1 tsp fresh ginger, grated
1/2 tsp nutmeg
1/2 tsp salt
Directions
1- Pre-heat oven at 350°F
2-Â Coat a 10″x15″ baking sheet with cooking spray. Line it with parchment paper and coat again with cooking spray. Dust it with flour; tap out the excess, and set it aside.
3- Sift the Flour with the salt, spices and baking powder in a bowl.
4- In another bowl, beat the eggs and until thick and light yellow in color. Mix in pumpkin, fresh ginger, vanilla extract and lime juice.
5- Fold in the flour mixture onto the pumpkin mixture with a spatula.
6-Â Bake cake until golden brown and springy to the touch for 12-15 minutes. Â Remove from the oven and cool off for 30 minutes.
7- Â Place the cake on a clean towel sprinkled with powdered sugar. Â Cool for another 20 minutes.
8-  Once the cake has completely cooled off, evenly spread the filling over the cake, roll it up and then wrap it in plastic wrap. Cover it and chill it for at least 1 hour inside of the fridge. (While the roll is cooling off in the fridge, prepare the filling.)
9-  Sprinkle cinnamon-powdered sugar (optional) on top, slice  and serve!
NOTE:
– I suggest slicing the roll with a serrated/bread knife and clean the knife after every slice.
– If properly wrapped, this roll freezes well for at least one week.
– Click here to see a step by step of how to roll a roulade-jelly roll.
Filling:
6 oz Cream cheese, room temperature
3 tbs Butter, room temperature
1/3 cup confectioners' sugar
1/2 tsp cinnamon
1/2 tsp vanilla extract
1/4 tsp salt
Directions
1- Beat together cream cheese and butter; add in the powdered sugar, cinnamon, salt, vanilla and blend until smooth.
¡a comer!
Yo hornié mi primer brazo gitano hace ya más de 5 años.  Siempre pensé que era un postre demasiado complicado para hacer, así que siempre le compraba en pastelerías.  Gracias a  una clase básica de postres, ya puedo crearme mis propias recetas para postres básicos como cupcakes, muffins, panes dulces y enrollados.  Es una sensación fascinante el sentirse con confianza en la cocina y poder improvisar sin tener que siempre estar siguiendo una receta.
De todas formas, si usted es uno de esos que necesita seguir una receta al pie de la letra, está bien, después que usted se sienta cómodo/a y disfrute de su experiencia en la cocina, ¡Dele con todo!
Esta es una receta sencilla para hacer un enrollado de calabaza o como le decimos brazo gitano.  Mi mamá solía decirme que el brazo de gitano se le llama al pastel por el enrollado y las camisas enrolada de los gitanos, pero existen tantas teorías del porqué del nombre, cuál crees vos?
Si usted es una persona que le encanta el relleno en los enrollados, sugiero incrementar la receta del relleno a un 50% más de las que tengo en la receta.
Rinde: 10 porciones – Duración:  30 minutos más 1:30 para enfriar y cortar el rollo.
Ingredientes:
4 huevos largos
3/4 taza de Harina de Todo Propósito
5/8 taza de Azúcar (granulada) (3/4 taza si le gusta los postres más dulcitos)
2/3 taza de puré de Calabaza
1 cdta de un jugo de Limón verde
1 cdta de Polvo de Hornear
1 cda de canela
1 cda de jengibre en polvo
1 cdta de jengibre fresco rayado
1/2 cdta de nuez mozcada
1/2 cdta de sal
Instrucciones
1- Pre calentar el horno a 175°C
2- Rocíe espray anti-adherente en una bandeja para hornear de 10″x15″.  Coloque papel pergamino para hornear en la bandeja, rocíe más del espray encima del papel.  Enpolve con un poco de harina, deshágase del exceso y ponga un lado.
3- Cierna la harina con la sal, especias y polvo de hornear en un bol.
4- En otro bol, bata los huevos hasta que queden grueso y un color amarillo claro.   Agregue ahora la calabaza, el extracto de vainilla, el jugo de limón y el jengibre fresco.
5- Agregue la mezcla de la harina en la mezcla de la calabaza con una espátula.
6- Hornée el bizcocho de 12-15 minutos hasta que quede dorado y esponjoso.  Remueva del horno y enfríe por 30 minutos.
7-  Ponga el bizcocho en una toalla limpia espolvoreada con azúcar en polvo.  Deje enfriar en la toalla por 20 minutos más.
8-  Una vez el bizcocho se haya enfriado completamente, esparce con una espátula el relleno de queso crema niveladamente y luego enrolle el brazo (desde el extremo de las 10 pulgadas).  Una vez enrollado envuelva en plástico y enfríe en el refrigerador por una hora. (Mientras el brazo gitano se enfría en el refrigerador, prepare el relleno.)
9-  Espolvoree canela y azúcar en polvo encima del rollo (opcional), corte en rodajas y sirva!
NOTAS:
РYo sugiero cortar el rollo con un cuchillo serrado (de pan) y limpielo despu̩s de cada cortada.
– Este rollo se congela bien or una semana siempre y tanto esté bien sellado en plástico.
Relleno:
6 oz de Queso Crema a temperatura ambiente
3 cda de Mantequilla a temperatura ambiente
1/3 taza de Azúcar en Polvo
1/2 cda de canela
1/2 cdta de extracto de vainilla
1/4 cdta de sal
Instrucciones
1- Con una batidora, mezcle el queso crema y la mantequilla, agregue el azúcar en polvo, canela, sal, vainilla y mezcle hasta que esté todo combinado.