.
Dolcezza (Georgetown)
It's been a while since my last post, ditto, too much procrastinating and way too many excuses, bottom line I'm back.
—
The Burger Joint, I tried in the past, not crazy about their fries, shakes are all right (i'm very picky so I recommend just keep it simple with ice cream, no syrups).  My burger has been usually dry but the past 2 times I visited it was phenomenal, I asked for medium and sweet potato fries, delicious! I highly recommend this place, if you still need some sugar rush try either their shakes or be an oldie like me and wash it down w/ a Crush!
Dolcezza, I'm a huge fan of honey-avocado-orange sorbet, not crazy about the hazelnut ice cream but the coconut was certainly a winner.  I miss churros from Manolos in Panama so much, but this place takes care of me when I'm craving them and I'm still not grown up enough to get them from Churreria Madrid, but that's in my to-do list for my Birthday!
Pete's New Haven (Clarendon)
Pete's New Haven Pizza, I admit it when it comes to pizza me and the boy (omg he is such a pizza-snob), and we are big fans of two styles either Neapolitan Style (Pupatella & Two Amys) or greasy NY-Italian style (Italian Store) and Pete's pizza was good, not great, not tasty neither delicious, it was just "fine" I tried the New England, Vegetarian, Pepperoni and Cheese.  The fact that I can buy pizza by the slice makes the whole difference.. I shall give it a 2nd try an keep you posted. (NOTE for myself: never even give a 2nd try to this place arancini's I had a bite (I usually finish my meal), I couldn't, some sort of marinara sauce that tasted bitter and boring, the arancini itself flavourless, funny texture, I would rather have another slice of pizza (taste better and cheaper!).
Buzz Bakery (Ballston)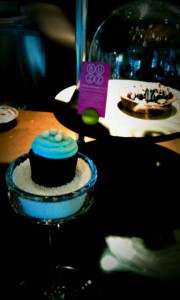 Just when I thought I was done with pastries, and of course being a cook for Lyon Hall makes me try more often the delicious sweets by Chef Valencia at Northside Social, still I found an excuse to try Buzz (so cute, new, yes I should try it, etc).
Price was I thought it was reasonable, I ordered red velvet cupcake (good) boston cream (i'll pass next time), turtle brownie (delish).  I also ordered a capuccino, I won't the next time.
Buzz is lovely, chic, clean, new every single employee will smile and glady explain any item they offer on their menu, I really appreciated that balanced combination of "not pushing you and at the same time willing to answer any questions).  I hate to place it in a only-for-girls spot but it's so pretty I'm not so sure any of my male friends would go to this bakery (unless of course they were on a date, or they were DCJosie and lovely Andrew!
—
Hopefully I will stop thinking about blogging and actually doing it… Just at Churchill said once "Success is not final, failure is not fatal: it is the courage to continue that counts."
¡a comer!