I don't always find Panamanian ingredients in the US, luckily, yuca is one of those that you can even find at a Whole Foods.  To stay in budget, I usually get my yuca from Mexican supermarkets, sometimes I buy it fresh, but I always get a frozen package to keep extra in the freezer, you never know when the yuca cravings might come.
There are so many ways to serve this dish, by itself, or with slices of a melting salty cheese, queso fresco, and/or fried eggs.  Maybe chorizo, roasted chicken, or fried fish. I can enjoy it for breakfast, lunch or dinner, it's pretty versatile.
You can prepare yuca al mojo in many ways, I have friends who use orange juice, or lime juice, but this is one of my favorite ways to make it at home:
My Yuca Al Mojo Recipe
Serves 4
Ingredients:
2 tbs Green Onions, chopped
2 tbs Garlic, chopped (4-5 garlic cloves)
1 Culantro leaf (if you can't find, add more cilantro or parsley)
2 tbs Cilantro, sliced
Lemon Juice
2 lbs Yuca, boiled (If you're using fresh yuca, instead of frozen, here is a video demonstrating how to peel it first).
Olive Oil
Butter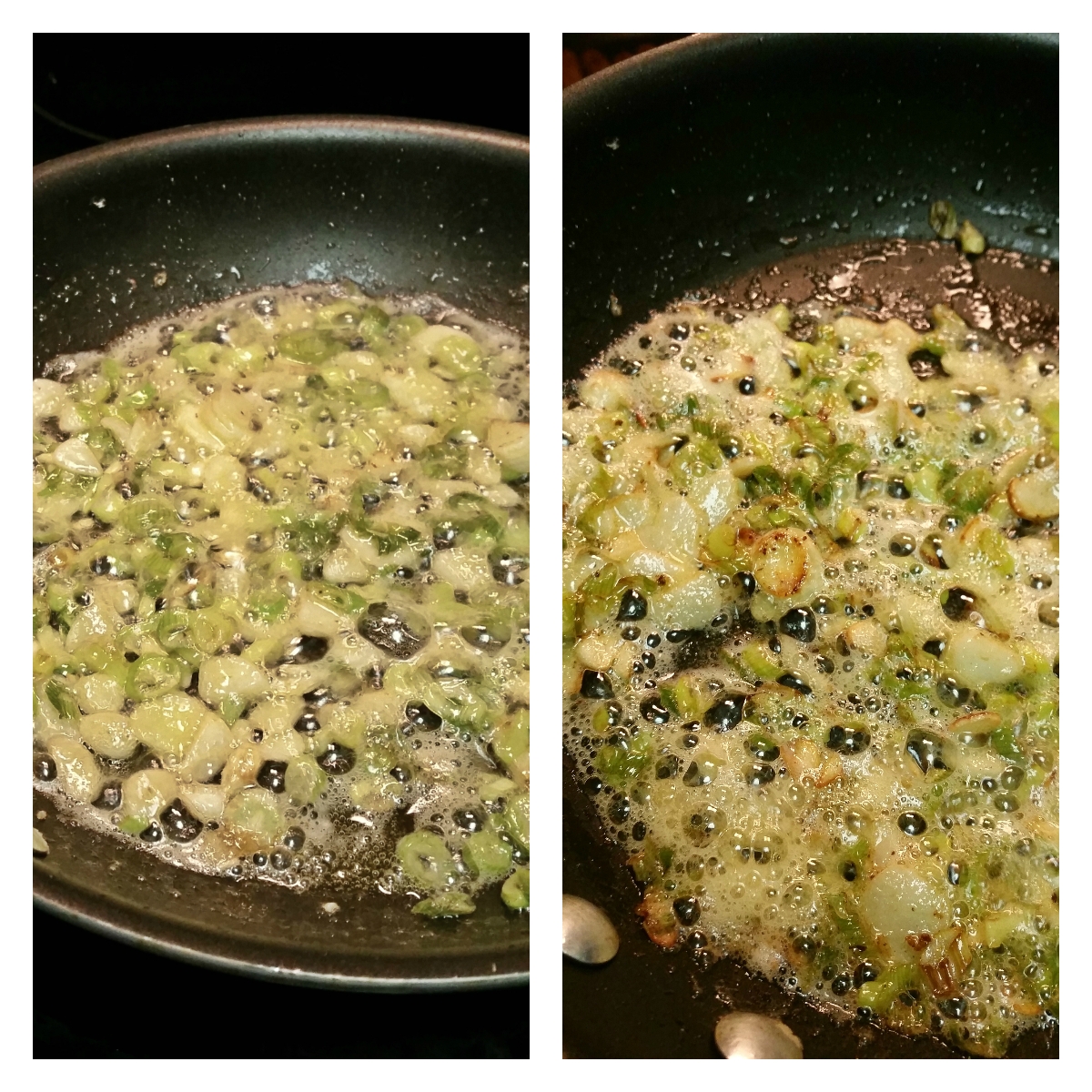 Directions:
– While you're boiling the yuca, prepare your ingredients.
– Sauté the garlic in olive oil at low heat (less than 2 minutes), add a bit of butter, chopped scallions, and pinch of salt, and remove before they go too brown (don't let it burn or you'll have to start again). (reserve the garlicky oil/butter).
–  On the same pan with olive oil (add extra if necessary), increase temperature to medium-high heat, crisp the boiled yuca, (I like mine crispy it on all sides).
– Â Once the yuca is browned to your preference, add pinch of salt, 1 tbs of butter, stir, lower heat, add garlic, scallions and fresh herbs.
– Turn off the heat and add lemon juice to taste (I like mine a bit sour so I go with half a lemon).
The key to a good Yuca Al Mojo, imho, is about quality of ingredients, even if your yuca is fresh, if you end up using a crappy olive oil, non fresh herbs, etc, you will end up with a 'meh' dish. Â I used frozen yuca #NoShame, boiled it in salty water, and cooked it with great oils + fresh herbs, it makes the whole difference in the world.
As you can see, my result is different from most recipes you'll find around, I add A LOT of herbs, I fry the garlic, and I also add butter!
I suggest eating this dish right on the moment, if you have leftovers (which I doubt it's going to happen), use them in soups or you can reheat them within two days in an oven, I like to keep my yuca crispy, if it becomes a bit dry after reheating, you can always make more mojo on the side ; )
¡a comer!
Other Blog Posts:
Carimañolas (stuffed yuca fritters)
How To Make Fried Green Plantains (Patacones / Tostones)