This is the illustration of a Patacón Pisao! Patacones are pisaos/aplastados (stepped on/smashed) and there is a song I find hilarious of a guy who demands to eat patacon pisao.
(watch video below)
Illustration by Leo Lammie

"Patacon Pisao" A well known merengue song I grew up listening to.
I've been thinking about this post for a while now. Â I love patacones, J loves yuca more so I go back and forth between both, yuca and green plantains, whenever I want to make frituras (Panamanian fried foods). Â  I have tons of memories of myself in the kitchen cooking green plantains, but I didn't always make patacones.
It's easier when you cook for 2-3 people, but when you have to make patacones for more than five, you better have a big frying pot. Â Peeling off and slicing the plantains takes the same effort regardless of you making patacones or just platanitos (thinly sliced fried plantains). Â The part that makes it different is smashing and having to double fry them, so it extends your time in the kitchen.
The way I go about this is, if I don't have much time, I make platanitos, if I don't mind spending a little more time in the kitchen, then patacones it is. Â They're great for dinner, and if you don't cook it too much and you shape the patacones like mini baskets, you can stuff with cheese and chorizo, bake for a few minutes and voila, you got yourself one of the best appetizers in the whole world. Â I also like to stuff them with ceviche.
We were ketchup fans at home, heck, as kids we put ketchup on everything, white rice, fried meats, fried rice, beans and even on our spaghetti (don't judge!). Â So as some of you eat french fries with a side of ketchup, I did the same with patacones. Â I still have ketchup with my patacones, but now I add sriracha and spicy mustard, try it, it's delicious!
Patacones
Serves 2 – Cooking Time 20 minutes
Ingredients
1-2 Green Plantains
Frying Oil
Salt
Fresh Black Pepper (optional)
Instructions
1- Â Peel the plantains (click here to see a video on how to peel them).
2- Â Slice the plantains like on Pic #2 around 1 inch.
3- Â Fry them until they look yellow 2-3 minutes like on Pic #3, don't let them get too golden brown.
4- Â Brush with oil the bottom of a kitchen stone, glass or of a plate (unless you have a pataconera). Â Smash the plantain (while it still hot). Pic#4. If the patacon starts breaking up when you smash it, it's because it wasn't fried enough. Â So you can fry a little longer your next batch.
5- Once smashed, fry them again until they're cooked through and golden brown. (1-2 mins). Â Sprinkle salt and pepper once they're done frying. Pic #5
Notes:
– Â I tried to do the first frying a day in advance and then the second frying the next day and the results were not satisfactory.
– Â If you have leftover fried plantains do not discard, you can freeze them and then add the next time you make a soup.
– Â You can cut the plantain slices smaller than 1 inch if you want smaller patacones.
– Â If they get yellow you could still make patacones, but the plantain will be softer and it wouldn't be savory anymore. Â You could instead cook them in temptation (recipe here).
¡a comer!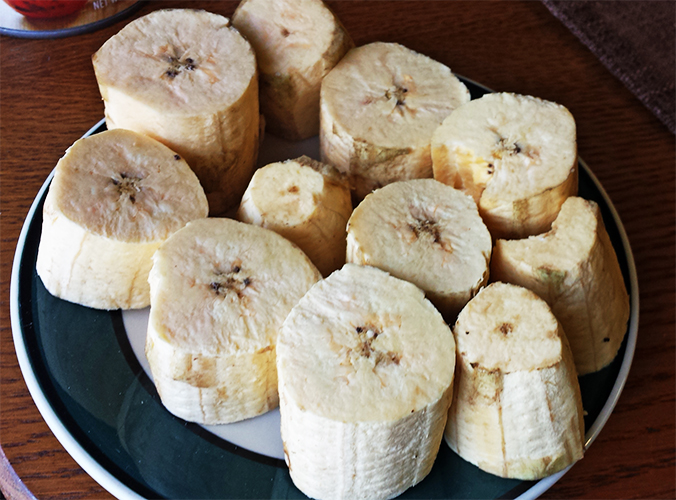 Picture #2
Picture #3
Picture #4
Picture #5